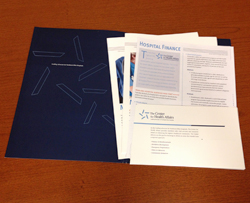 Cleveland, Ohio (PRWEB) April 01, 2014
This month The Center for Health Affairs distributed welcome packets to federal, state and local elected officials who represent various areas throughout Northeast Ohio. The purpose of these packets is to introduce and/or reacquaint elected leaders to the region's most important health policy topics. This annual project has been in place for years and aligns with The Center's recently completed Strategic Direction. This year's welcome packets included a variety of materials highlighting Northeast Ohio's healthcare environment including:

Hospital Finance Overview
Medicare Overview
Medicaid Overview
Economic Impact Report
Medicaid Expansion Overview
Uncompensated Care Overview
District-Specific Hospital Directory
Federal and state lawmakers received copies of the welcome packets in the mail; however local elected officials – including mayors, city councilmen and county councilmen – will receive hand-delivered hard copies of their packets from Tony Gutowski, public policy development manager. The packets are part of The Center's ongoing efforts to bolster the awareness of the hospital industry in the eyes of the community and by local elected officials.
To learn more about the materials included in the lawmaker welcome packets, contact Deanna Moore at 216.255.3614 or via email.
###
As the leading advocate for Northeast Ohio hospitals, The Center for Health Affairs provides members with vital services and resources aimed at enhancing the region's healthcare community. The Center delivers on this goal by focusing its efforts on areas that benefit from a regional approach: Healthcare Workforce; Emergency Preparedness; Public Policy & Advocacy; Finance & Reimbursement; and Community Initiatives. With a rich history as the Northeast Ohio hospital association, dating back to 1916, The Center serves as the collective voice of hospitals and the source for Northeast Ohio hospital and healthcare information. As leaders, we continuously scan the periphery, looking for opportunities to enhance the region's workforce, better prepare our hospitals for an emergency, and increase the region's wage index. And because of our business affiliation with CHAMPS Healthcare, we have the resources to provide a broad level of professional services to our members. The Center, located in downtown Cleveland, is proud to advocate on behalf of 38 acute-care hospitals and two long-term acute-care hospitals in six counties. For more, visit chanet.org.