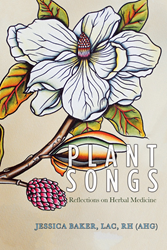 "The potential for longevity, health, and happiness increases when there is a connection to the cycles of nature."
DENVER (PRWEB) September 24, 2018
Jessica Baker, LAc, RH (AHG), Chief Visionary Officer of Baker Botanica, licensed acupuncturist, and registered herbalist, has published her memoir and guidebook "Plant Songs: Reflections on Herbal Medicine."
Baker wrote "Plant Songs" to share how plants have played an important role in every stage of her life from childhood to the present, and to help her audience deepen their connection to nature and medicinal plants. Through Baker's personal stories, and clinical observations, healing properties and recipes for herbs such as pine, reishi, and oak, readers will gain an understanding of how they can benefit from herbal medicine.
"The potential for longevity, health, and happiness increases when there is a connection to the cycles of nature." the author said.
"Plant Songs" provides readers with the tools needed to incorporate herbal medicine practices into their wellness routines. Nature heals and communicates if we slow down and listen.
"Plant Songs: Reflections on Herbal Medicine"
By Jessica Baker, LAc, RH (AHG)
ISBN: 9781504393553 (softcover); 9781504393577 (hardcover); 9781504393560 (electronic)
Available at the Balboa Press Online Bookstore and Amazon
About the author
Jessica Baker is an author, herbalist, acupuncturist, aromatherapist, and educator. She began studying herbal medicine in 1998 at the Dandelion Herbal Center. Jessica received her Master's Degree of Traditional Chinese Medicine in 2008 from Five Branches University and is a licensed acupuncturist in California and Colorado. Her passion for all plants is reflected in her custom formulations and classes on aromatherapy, herbalism, and Chinese medicine. Having many years as a clinician, Jessica is a master formulator, understanding the importance of plant synergy and energetics. Her work with plant medicine has led to many great conversations and opportunities within the herbal and cannabis industries. Jessica has a private practice in Denver, CO and is also available for long distance herbal consultations. To learn more, please visit http://www.BakerBotanica.com.
###