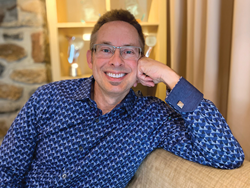 20% growth in 2018 is unbelievable and 2019 will eclipse it. My goal is to make that growth normal.
ALLENTOWN, Pa. (PRWEB) June 03, 2019
Kraemer Schurman Advertising and Design is thrilled to welcome one of the Lehigh Valley's premier advertising and creative talents, Andy Hall, as Vice President, Client Services. After serving in several senior-level positions with noteworthy advertising agencies Lieberman-Appalucci and Klunk & Millan, Andy and KSA&D, Inc. founding partner, Bob Kraemer, reunite after having worked together in previous roles. Of the new hire, KSA&D partner Peter Shurman said, "We're very excited to have Andy on board and are confident that he will bring a wealth of knowledge and experience to the team at KSA&D."
Hall's extensive experience in the Lehigh Valley includes 11 years as an adjunct professor of Advertising Design at Cedar Crest College; an alumni Leadership Council board member at his alma mater, Kutztown University; member of the Executive Forum of the Lehigh Valley; as well as numerous boards and committees throughout the Lehigh Valley.
Hall will immediately influence and help to drive project planning, strategic marketing, and creative execution, new business development, and business strategies for the 15-person, 20-year-old KSA&D. He said, "I have been very fortunate in my career to work with wonderful clients and brands, as well as amazingly talented co-workers. Each step of my professional journey has risen to higher levels. In KSA&D, I have reached a new summit. 20% growth in 2018 is unbelievable and 2019 will eclipse it. My goal is to make that growth normal."
Headquartered in Allentown, KSA&D provides sophisticated, highly creative solutions with smart, integrated and comprehensive strategies. Their decades of expertise in branding and design, marketing and advertising strategy, website and app development, digital marketing and social media, email and direct marketing and more have positioned KSA&D as a powerful partner for Fortune 500 companies, regional leaders, and renowned national brands.