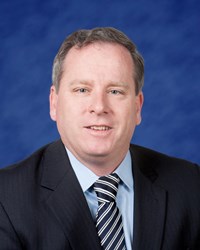 'WellCare's advantage is that we focus exclusively on serving Medicaid and Medicare members,' said Burke. 'This means we are dedicated to serving those who need help the most, including the aged, blind, disabled and low-income populations.'
Tampa, FL (PRWEB) December 12, 2013
WellCare Health Plans, Inc., (NYSE: WCG) today announced that it has named John J. Burke state president of New York, effective Sept. 13, when he began serving in the role on an interim basis. Burke is responsible for WellCare's Medicaid and Medicare Advantage operations in New York, and for growth initiatives across the state. He joined WellCare in 2004 and previously served as chief operating officer; vice president, network management; and director, Medicare expansion for WellCare of New York. He will report to Dave Reynolds, WellCare's region president for Conn., Ill., Mo., N.J., N.Y. and Ohio.
"John has solid experience and expertise in government-funded health care programs, and will continue to be an asset to WellCare as we focus on working with our state customer, providers and community organizations in bringing New Yorkers quality, coordinated care in a cost-effective manner," said Reynolds.
"WellCare's advantage is that we focus exclusively on serving Medicaid and Medicare members," said Burke. "This means we are dedicated to serving those who need help the most, including the aged, blind, disabled and low-income populations. I look forward to continuing to lead the New York team in delivering on our commitment to enhance the lives of our members in New York."
Prior to joining WellCare, Burke was vice president of network management for Healthfirst in New York and served on that company's board of directors from 1999 to 2001. Prior to that, he served as the vice president of managed care at Creative Health Concepts and Episcopal Health Services. Earlier in his career, he held various positions of leadership at New York Life Insurance Company and Metropolitan Life Insurance Company. He earned a bachelor's degree from Fordham University and is completing his master's degree in leadership at Georgetown University.
As of Sept. 30, 2013, WellCare serves approximately 89,000 Medicaid, 45,000 Medicare Advantage, 39,000 Medicare Prescription Drug Plan and 5,000 Managed Long Term Care members in New York.
About WellCare Health Plans, Inc.
WellCare Health Plans, Inc. provides managed care services targeted to government-sponsored health care programs, focusing on Medicaid and Medicare. Headquartered in Tampa, Fla., WellCare offers a variety of health plans for families, children, and the aged, blind and disabled, as well as prescription drug plans. The company serves approximately 2.8 million members nationwide as of Sept. 30, 2013. For more information about WellCare, please visit the company's website at http://www.wellcare.com.