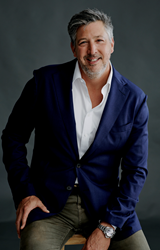 "Wellcom's global network will enable us to produce complex content around the world with scale while delivering the speed, quality, and service our clients expect."
NEW YORK (PRWEB) October 12, 2021
Wellcom Worldwide, an INNOCEAN company, today announced the appointment of David Bridges as its new Group Global President and CEO, effective October 1, 2021. As a leader at the forefront of digital transformation and digital production services, Bridges undertakes the restructure and renewal of Wellcom Worldwide as it enters the next phase of expansion and growth. He will oversee the growth and strategic direction of all the Wellcom Brands, including thelab and Dippin' Sauce.
"David will bring a wealth of experience and energy in his new role at Wellcom Worldwide," states William Lee, Global Chief Executive Officer of INNOCEAN Worldwide. "He is a leader able to forge us forward as Wellcom grows globally, expanding business opportunities and bringing our offices together as a driving force."
Previously, Bridges served as President and CEO of thelab NYC, a digital e-commerce/content production agency, Wellcom's largest US business, for the past 19 years. Bridges' promotion comes during a transformational period for Wellcom Worldwide as it expands into North America where it will open a new office in Brooklyn. Its new Dumbo HQ will house the newly launched Wellcom US business further expanding Wellcom's global footprint. thelab, its digital ecommerce agency business, and Dippin' Sauce, its high-end shoot and post-production company will also be located in the new 24,000 sqft Dumbo facility.
"I could not be more excited to take the reins as Global CEO and continue to build and diversify our talent and service offerings so we can provide our clients with relevant, world class integrated content production services and solutions," said Bridges. "Wellcom's global network will enable us to produce complex content around the world with scale while delivering the speed, quality, and service our clients expect."
Other executive appointments include: Max Oshman promoted to CEO of thelab NYC; Valerie Anderson, new Head of Content for Wellcom Worldwide; Doug Guttenberg, promoted to Managing Director of the newly launched Wellcom USA and Andrew Lumsden promoted to CEO of Wellcom Australia/Asia.
"I'm honored to take on this new role leading such a hardworking, talented, decent group of people," said Max Oshman, incoming CEO of thelab NYC. "As we look and work towards a future dominated by ecommerce and omnichannel D2C, we will continue to build upon the core competencies we have established over the last five years across strategy, UX, creative, technology, and data/analytics. We are laser focused on delivering both the performance and service our clients demand."
Andrew Lumsden notes that "after fulfilling global executive roles with the business over the past eight years, I am thrilled to be taking on the role of CEO of Wellcom Australia/Asia. As specialists in nimble creative and digital content production, we are perfectly positioned within our market to continue to develop and grow our service capabilities in line with client demand. I look forward to working with David and the rest of the team in aligning and evolving our worldwide offering."
Bios of all appointed executives are below. Read more about Wellcom Worldwide at http://www.wellcomww.com.
David Bridges, Group Global President & CEO, Wellcom Worldwide
David brings over 30 years of experience innovating and expanding creative production businesses that service multinational Fortune 500 companies, boutique brands, startups and large advertising agencies. In his role as CEO of Wellcom Worldwide, David will lead a global effort to align best practices and further build out a world-class, integrated production offering that solves our clients' biggest challenges with scalable, multi-channel, global content production solutions.
Prior to his role as Global CEO, David founded two creative production agencies including thelab in 2002, which consistently challenged and expanded the definition of production services. Under his leadership, thelab established mutually-lucrative on-site partnerships, a digital-first approach, a strategically-led creative services department, and a transparent culture that consistently attracted and retained motivated talent across operational and specialty production roles. In 1993 David started ICON, the first photoshop based retouching business in New York City which he sold to Laser Tech Color three years later. He remained CEO of their Northeast Business for four more years. Strong relationship-building skills, measured listening and an aptitude for complex problem-solving drive David's ambitions as a leader and colleague. He looks forward with anticipation and enthusiasm to the road ahead.
Max Oshman, CEO, thelab NYC
In 2008, Max joined thelab after FK Interactive, an award-winning interactive development firm he founded, was acquired. As Chief Digital Officer at thelab, Max led large-scale, acquisition-oriented.
In his role as CEO, Max will continue providing digital strategy for client teams at thelab, while expanding capabilities in UX, creative, technology and data/analytics across the company. With an emphasis on branded storefront development, performance-based, cross-channel campaign strategy and scalable content production workflows, thelab aims to partner with and support ambitious brands with ambitious vision for their industry and the world at large. platform development and digital marketing projects, specializing in direct-to-consumer strategies.
Valerie Anderson, Chief Content Officer, Wellcom Worldwide
Valerie co-founded the creative editing company, Beast, which evolved to include a fully integrated creative network that attracted a diverse array of world-class talent through a partnership with Ascent. Under her leadership, Beast became the largest creative editing firm in North America. Following the acquisition of Ascent by Deluxe Entertainment, she became Chief Marketing Officer of Deluxe Creative Services where she developed and executed comprehensive sales and marketing strategies across the entertainment and advertising sectors. Valerie then joined Publicis Groupe to innovate the North American studio offering where she led a team that won global GSK omnichannel production work. Valerie will lead the strategic development of Wellcom's integrated content offering by expanding its investment in technology, workflows and talent globally, allowing it to produce relevant, high quality content at scale.
Doug Guttenberg, Managing Director Wellcom US
Prior to this new role, as Head of Production, Doug helped to expand the breadth and depth of creative production capabilities as head of production at thelab. He will now lead the newly established Wellcom US business based in Dumbo, Brooklyn. He will leverage our technology and creative production solutions to service both Global and US based clients.
Andrew Lumsden, CEO, Wellcom Australia/Asia
Since joining Wellcom in 2008, Andrew has held roles as Global Chief Operating Officer, Group Financial Controller, Chief Financial Officer and Company Secretary. Previously he was a Senior Audit Manager for PricewaterhouseCoopers (PwC) in the UK and Australia.
Bringing a wealth of knowledge and years of experience within the Wellcom Group to the role, Andy will now lead Wellcom's offices in Sydney, Melbourne, New Zealand, Kuala Lumpur and Singapore and work in partnership with Bridges to continue to build a world class global production agency.
About Wellcom Worldwide
Wellcom Worldwide is a leading global creative production agency specialising in digital marketing, omnichannel content production and marketing operations technology. Founded in 2000 and headquartered in Melbourne, Australia, Wellcom services internationally renowned brands from its operations in Australia, New Zealand, the United Kingdom, the United States, Malaysia and India. Wellcom has developed proprietary technology, Knowledgewell, a marketing software suite designed to automate tasks, simplify processes and reduce costs, while allowing brands to produce marketing collateral with speed, accuracy and consistency.
About INNOCEAN Worldwide
Launched in May 2005, INNOCEAN Worldwide is now spearheading marketing and communication projects for numerous clients throughout the world. INNOCEAN formulates and implements global communication strategies for a wide range of local and global brands - INNOCEAN specializes in providing marketing solutions based on its extensive experience and know-how attained from participating in numerous large-scale global events such as Super Bowl, FIFA World Cups, major auto shows, international expos, Olympics and many more. Not only that, INNOCEAN has and will continue to expand its expertise in digital, big data, platform and mobility services. With its worldwide network that consists of HQ in Seoul, Korea and 28 overseas operations located in the Americas, Europe, Asia, Middle East and more, INNOCEAN has become a true global marketing communications company with over 3,000 creative individuals.
MEDIA CONTACT:
David Thalberg
INNOCEAN USA
(917) 952-2580
DThalberg@innoceanusa.com