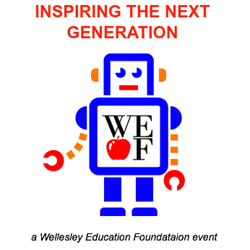 The Expo team's primary goal is simple: to inspire. Their hope is for attendees to be engaged, excited by the 75 or more hands-on exhibits they will have a chance to participate in and will take away from the event.
Wellesley, MA (PRWEB) April 03, 2014
The Wellesley Education Foundation is proud to host the first Wellesley Science & Technology Expo to be at on Saturday, April 5th from 10am to 3pm at the Wellesley High School. The EXPO is a hands-on science, technology, engineering and math (STEM) exposition that will feature an engaging speaker series, hands-on exhibits, amazing workshops and a wonderful student work showcase.
The National Assessment of Educational Progress as well as non-profit STEM Advantage report that nationally, approximately 136 million jobs are currently filled and a growing number of them -- 14.9 million as of 2012 with a 20.6 percent growth projected through 2018 -- will require STEM education. Educator and author Tony Wagner, whose latest book, "Creating Innovators," was recently discussed in a panel discussion at the Wellesley Free Library asks: "How do we create the conditions at home, in our schools, and in our communities for students to create, learn, produce, and to innovate?"
Recently,in the State of the Union address, the president highlighted investments in STEM education, sharing the story of Jackie Bray, an unemployed single mother from North Carolina who entered a STEM career path through a partnership between her local community college and her employer. He said, "Now you need to give more community colleges the resources they need to become community career centers -- places that teach people skills that local businesses are looking for right now, from data management to high-tech manufacturing." Similarly, Gov. Deval Patrick announced this year that he planned to launch a renewed strategic commitment to statewide economic development combined with educational enhancement in STEM subjects. In addition, the governor is hosting an annual Massachusetts STEM Summit at Gillette Stadium in Foxborough this spring. Clearly there is a connection between the education level of the workforce and economic growth and development.
"This is a unique community, that understands the national STEM imperative," said Dean Blase, Director of Curriculum and Instruction, Wellesley Public Schools. Blase brings a wealth of STEM experience and interest to Wellesley, having come out of the STEM- and leadership- oriented Cambridge school system.
Wellesley Superintendent David Lussier has made great strides in efforts to review, redesign and expand the K-12 STEM subject areas. Responding to the Wellesley Education Foundation's (WEF)-funded strategic plan initiative last summer, as well as having heard loud and clear from local business and education leaders, parents and staff that STEM education is a particularly important area of focus for Wellesley's schools, he has put math and science curricula front and center for FY15 and beyond. Lussier has also moved up the science curriculum review timetable and increased funding in the FY15 budget for modernizing some of the more antiquated K-12 materials and equipment.
Last spring, a group of public school parents came together to brainstorm how best to support the town's STEM initiatives by showcasing the many talented STEM professionals living in Wellesley as well as inviting others from the Greater Boston area.
The Expo planning team, consisting of a core group of 12 people (Paige Adams, Julia de Peyster, Nancy Dobos, Anne Marie Cronin, Katey Goehringer, Phylliss Hill, Marybeth Martello, Sheila Olson, Rama K. Ramaswamy, Sue Sours, Kristen Toffer, Beth Anne Willett) as well as a larger part-time group of anywhere between 20and 50 people, researched STEM resources in Wellesley and surrounding towns as well as the tremendous programs already existing in the local public and private schools. Through tours, visits to science fairs such as the one in Cambridge, networking with the MetroWest STEM Education Network and Greater Boston Readiness Center at Framingham State University, Museum of Science, Weston Observatory, Boston College, Wellesley and Olin colleges and many, many more, the Wellesley Science and Technology Expo will become a reality this April.
The expo, which is free and open to the public, takes place on April 5 from 10 a.m. to 2 p.m. at Wellesley High School. Dr. Jeff Hoffman, former NASA astronaut, the keynote speaker, will talk at 2 p.m.
EXPO attendees are asked to register to attend in advance, since organizers a large turn-out and some of the events have limited space that may only accommodate visitors who have registered ahead of time.
Michelle Arbeely, Wellesley Education Foundation (WEF) co-president, said they are very excited to have the Science and Technology Expo. "For the past 25 years, we have sponsored the Wellesley Spelling Bee, which is a community-wide event. For years we have been looking for the opportunity to sponsor another community-wide event, which focuses on science and math. The Expo is a perfect fit and demonstrates WEF's commitment to STEM education. It is our hope that like to the Spelling Bee, the Expo will become a Wellesley tradition."
Carol Morrow who is co-vice president, nominating and strategic planning for WEF, is passionate about WEF's mission to invest in its "programs that enhance, enrich and maintain educational excellence and foster innovation." Furthermore, she points out some of WEF's achievements, such as funding of $42,800 for the 1:1 technology program for next year's sixth grade. "To support advancements in technology in the Wellesley Public Schools curriculum, WEF has voted to fund the faculty component of the 1:1 Technology Program, supplying 36 iPads and sponsoring professional development for sixth-grade faculty and staff members - totalling over $42,800. Over 400 students each year will benefit from this grant. The 1:1 Initiative enables educators to focus on every student, every day while delivering student-centered, individualized instruction in a safe collaborative learning environment that encourages students to demonstrate understanding in multiple ways. Students learn how to use technology fluently, productively, and responsibly as a tool to problem-solve, communicate, create, innovate, and make global connections through authentic learning experiences."
The Expo team's primary goal is simple: to inspire. Their hope is for attendees to be engaged, excited by the 75 or more hands-on exhibits they will have a chance to participate in and will take away from the event; it will be an experience that will be lasting. Innovation continues to be the elixir of progress and optimist remains the right starting point; team goals include inspiring K-12 students in preparation for future jobs that don't as yet exist; showcasing the joy of engaging in science, technology, math and engineering; finding out that the process of asking hard questions and chasing down answers can be fun; and lastly, finding that STEM can be part of everyday life -- its principles can be applied to liberal arts, art, music and even sports.
The Expo team promises, "there will be something for everyone- whether you are a college student, a practicing engineer, a parent of a toddler or an art history major with kids in high school or graduate school."
Highlights include a plethora of robots from iRobot, Harvard, Olin, WPI, Mass State Police Bomb Squad etc., CBS Storm Chase Mobile Weather Lab, Remote Underwater Surveillance System (RUSS) submersible developed by MassBay etc., Space Exploration with Clay Observatory, Build Your Own River, Learn How Glaciers Work, Learn about Urban Soil and Get Your Soil Analyzed with Wellesley College, Get Hands-on with Raspberry Pi with Wellesley Code Academy, Build a Small Hovercraft and then Ride in a Big One with Explo, Fun with Makey Makey, Scratch and iPad with Dana Hall, Math Olympics with Russian School of Math, Laser Maze with MassBay, Tile the Plane with Einstein's Workshop, Science on Street Augmented Reality Sandbox, Stomp Rockets, and Defying Gravity, Egg-bert 'N' Ice Demo Table with Mad Science,Bernoulli's Principle and the Science of Flying, Learn about Polymers with the Langer Lab at MIT and much, much more.