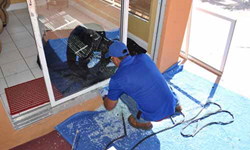 Choosing a glass repair company is a big deal for many residential customers
Wellington, FL (PRWEB) June 08, 2017
Wellington Sliding Glass Door Repair Leader, Express Glass & Board Up, is proud to announce a new 'review us' feature for Wellington customers. Customers can visit the local informational page and click on the button to go directly to the popular Angie's list service to review the company.
"Choosing a glass repair company is a big deal for many residential customers," commented Yaniet Santos, General Manager of Express Glass. "With Angie's list one of the more popular service, and with its move to being cost-free to consumers, we're realizing that more and more of our customers want to review us on that popular site. Our new button makes this just one click away."
To view the new review button for Wellington Florida glass repair customers, visit http://www.expressglassfl.com/expressglass-wellington-fl/. Once on that page, just scroll down and the button is easy to find. By clicking the interested person can then go to the Angie's list page. New customers can learn more about available glass repair services at http://www.expressglassfl.com/glass-repair/ or just call the company for a no cost estimate.
A Local Wellington Business with Local Customer Reviews
As one of the smaller communities in South Florida, Wellington is known for its local pride. Wellington residents are fiercely proud of their community and are known to prefer locally owned restaurants over chains, and local repair businesses over national chains. Even more interesting, it's a hotbed of internet activity, with many local Wellington residents posting reviews on popular sites such as Google, Yelp, and Angie's list. Newcomers, however, many not understand how to enter the fray. It may be mystifying to them, for example, how to logon to a site like Angie's list, find the appropriate vendor, and write their review. By adding a simple 'review' button to the Wellington glass repair page, Express Glass has simplified this process and allowed its customers an easy way to write short, honest review about their experience with the company.
About Express Glass Repair and Board Up
Express Glass and Board Up Service Inc. is a family owned and operated glass repair business with more than 20 years of experience. Professional technicians and the large variety of inventory make Express Glass the top glass repair service. If customers are looking for West Palm Beach glass repair or Ft. Lauderdale glass repair as well as glass repair in Delray Beach, please reach out to the company for a free estimate. If customers need a 24/7 Sliding Glass Door repair service in West Palm Beach or Boca Raton or Miramar, technicians are standing by. The company specializes in sliding glass door repair and window glass repair; Express Glass will handle any glass replacement situation efficiently. Home or business glass repair is the company's main priority.
Express Glass Repair and Board up
http://www.expressglassfl.com/