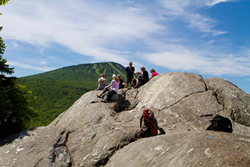 Mendon/Killington, Vermont (PRWEB) December 26, 2014
New Life Hiking Spa (http://www.newlifehikingspa.com) is a nationally recognized, affordable fitness and wellness destination celebrating 37 years in business. Founded in 1978 by the director, Jimmy LeSage, M.S., New Life is one of the oldest and most established spa vacation package programs of its kind in the country catering to over 600 guests each spring through the fall season.
The Active Times has just released the top ten Health and Wellness Vacations for 2015 and picked New Life Hiking Spa in Mendon, Vermont as the only location in New England.
The top ten list was comprised of:
Rosalie Bay Resort, Dominica
Can Dream Luxury Villa, Ibiza
Bacara Resort & Spa, California
Blue Osa, Costa Rica
Lake Austin Spa Resort, Texas
Tenaya Lodge at Yosemite, California
The St. Regis Aspen Resort, Colorado
The Vines Resort & Spa, Argentina
New Life Hiking Spa, Vermont
Hilton Head Health, South Carolina
New Life is open each year from mid-May through the end of September when hiking is at its peak. The dates for the upcoming season are May14 – September 28, 2015 and pre-season booking specials are available until February 12, 2015.
About New Life Hiking Spa
New Life Hiking Spa is a nationally recognized affordable spa located in the beautiful Green Mountains of Vermont. Known for its exhilarating hiking program, a world renowned weight loss retreat, delicious healthy meals and a comfortable atmosphere, New Life Hiking Spa offers the chance to experience the peace of the outdoors in a down-to-earth, country inn environment. It is ideally suited for small groups, couples or individuals trying to improve their fitness level and eating habits. New Life is open each year in the Mendon/Killington area and offers a variety of vacation options including a 2-4 day mini-getaway, a 5-10 day Jump Start Program and the 11-day or longer Weight Loss Retreat.
All-inclusive prices range from $235 - $265 per night. Prices include a room, three healthy meals per day, fresh fruit and vegetables as snacks, one guided hike every day (three levels offered per day to accommodate everyone's fitness needs), all fitness and yoga classes, one massage for every three night stay and evening lectures and cooking demos. With the current special running until, February 12, 2015, prices start at $195 per night.
Referred to as a "Hiker's Paradise" in the July 2014 issue of SELF Magazine, New Life has been consistently picked as one of the top ten spas in the world by SpaFinder Wellness Reader's Choice Awards for hiking, solo travel, weight loss, affordability and fitness classes over the past decade. New Life has also been listed as New England's top spa by Spas of America from 2010-2013.
Reservations can be made and more information on New Life's programming can be found online at http://www.NewLifeHikingSpa.com