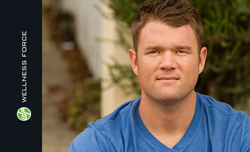 Dr. Tim Brown and his goal with IntelliSkin is the true definition of visionary leadership. The synergy with Wellness Force is palpable and dovetails flawlessly with the ethos of IntelliSkin to help men and women stand tall in all aspects of their lives. - Josh Trent, Founder, Wellness Force
HUNTINGTON BEACH, CA (PRWEB) September 18, 2017
Movement is key and Rockstock 2017, a conference dedicated to movement science and innovation, is around the corner. Two leading-edge partners in the wellness industry, IntelliSkin and Wellness Force, will join forces at this exciting event to dive into the nuances of posture awareness and physical intelligence.
"Dr. Tim Brown and his goal with IntelliSkin is the true definition of visionary leadership. The synergy with Wellness Force is palpable and dovetails flawlessly with the ethos of IntelliSkin to help men and women stand tall in all aspects of their lives. We are thrilled to partner with one of the most forward-thinking and innovative brands at this powerful intersection of all things wellness." - Josh Trent, Founder, Wellness Force
LIVE at the Rockstock event, Saturday September 23rd, Dr. Tim Brown and Josh Trent will be leading a series of interviews and breakout sessions with world-class wellness and fitness icons. The interviews will be recorded live, filmed, and broadcast through the Wellness Force podcast. This event will kick off the partnership, building towards the upcoming "Inspired Action Series" where Tim and Josh will discuss initiatives in helping listeners stand tall through spotlighting optimized training for the full-time human and living the proactive wellness lifestyle, men and women will be empowered to start training wherever they are and live better now. They will also be interviewing IntelliSkin athletes with goal to inspire and instruct.
"We are so honored to participate in this event with Wellness Force. When I met Josh, the synergy was instant. We both believe that Truth Has No Agenda! Our approach is interdisciplinary, science, and evidence based. We look at what you eat, think, and do to develop the most efficient and effective way to improve function. The theme of how integrating proper breath with movement is key to performance, recovery, training and preventing injury is central to IntelliSkin's mission. We cannot wait to kick off this partnership with one of the most exciting events in the wellness arena." - Dr. Tim Brown, Founder, IntelliSkin
Wellness Force was created to empower men and women to discover the physical and emotional intelligence they need to live life well. By spotlighting global wellness influencers in podcast, video, and rich media content, Wellness Force serves the global collective as a force of wellness for humans to thrive in our modern world.
The goal of IntelliSkin is to radically transform the way we think, speak, and act about our posture. Through posture awareness campaigns and a core product of posture correcting shirts, IntelliSkin helps you Stand Tall. The fletch on the back of the shirt is a visual representation of the kinesiology-inspired technology brought to the table when developing their apparel. Alongside Wellness Force and RockTape, the founder Dr. Tim Brown is a leader in the wellness industry, consulting a variety of athletes and fitness professionals.
Join us a Rockstock '17 on the 23rd. If you are unable to attend, download the podcast to discover the physical and emotional intelligence to live life well at http://www.wellnessforce.com/itunes or your preferred podcast app.
INTELLISKIN
Web: http://Intelliskin.net
Contact: tbrown(at)intelliskin(dot)net
Facebook: https://www.facebook.com/intelliskin
Instagram: https://www.instagram.com/intelliskin
Twitter: https://twitter.com/intelliskin
Youtube: https://www.youtube.com/user/intelliskin
WELLNESS FORCE MEDIA
Web: http://wellnessforce.com
Contact: info(at)wellnessforce(dot)com
Facebook: http://facebook.com/wellnessF
Instagram: http://instagram.com/wellnessforce
Apple Podcast: http://wellnessforce.com/itunes
Google Play: http://wellnessforce.com/googleplay
Stitcher: http://wellnessforce.com/stitcher
iHeartRadio: http://wellnessforce.com/iheartradio