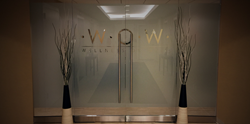 Quality of life is key, but most people don't know where to begin. When a program is completely customized to your lifestyle and with the proper amount of accountability, it's a home run every time. - Devlin Peña / Co-Founder
New York, NY (PRWEB) August 05, 2015
Wellness On Wall LLC (WOW), an advanced wellness center, has recently launched its Manhattan, New York office and currently offers the latest scientifically advanced wellness services in the industry. Using the latest technology available, Wellness On Wall has the ability to create customized plans and deliver rapid results to all patients and those who want to restore their "quality of life." At Wellness On Wall there is no "one size fits all" approach; the doctors and certified specialists who make up the team assess every client as an individual and tailor a strategic plan to maximize results, based on their specific biological needs.
The entire Wellness On Wall team of doctors and specialists were carefully selected based on experience, credentials and overall passion for the industry to ensure the highest level of service and results. Aiming to optimize physical, mental, biological and aesthetic well-being, both intrinsically and extrinsically, the techniques used have been both medically and scientifically proven to lead to an improved quality of life. The wellness center has been launched due to a market need to offer a state-of-the-art, private and safe environment in which clients can feel relaxed and have confidence that they will have the utmost quality of care and service.
One of the primary services that sets Wellness On Wall apart from the others is their unique approach to genetic and genomic therapies. Using advances in genomic sequencing, the human microbiome, proteomics, informatics, computing, and cell therapy technologies, Wellness On Wall has formed a strategic partnership that is at the forefront of this scientific frontier: By building the world's most comprehensive database on human genotypes and phenotypes, to tackle the diseases associated with aging-related human biological decline. Their goal, which works synergistically with WOW's, is to extend and enhance the healthy, high-performance lifespan and change the face of aging.
Understanding how stressful life can become, Wellness On Wall has created a core set of services that addresses and covers all facets of wellness, internally and externally. Just a few of the top services and treatments offered are:

Age Management
Advanced Genetic & Genomic Assessments
Facial Aesthetics
Medical Weight Management
Non-Invasive Body Sculpting And Fat Reduction
Pain-Free Laser Hair Removal
Cellulite Packages
Liquid IV Fusion
Located on Wall Street in the heart of the financial district, the advanced wellness center is easily accessible. With the most advanced and comprehensive testing, the programs are tailored for individuals who are interested in proactive and preventive care. By combining one of a kind diagnostic testing with personalized treatment regimens, one can expect a life changing opportunity to achieve proper biological balance, addressing both internal and external aging factors.
For more in-depth information please feel free to visit the Wellness On Wall website, peruse their blog or call 646-963-9708 to schedule your free consultation