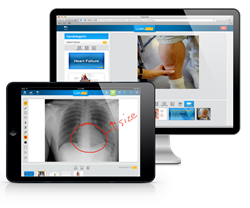 Data is a powerful tool often overlooked in patient education strategies," reports Mark Friess, Founder & CEO.
Portland, Oregon (PRWEB) March 21, 2014
WelVU, an innovation leader in personalized patient education technology markets, announced today the close of an initial seed financing of $1.25M, expanding the initial round due to strong interest from seasoned angel investors. The round closed on the heels of WelVU's integrated enterprise healthcare patient engagement platform launch earlier this month and will be used to fund aggressive go-to-market activity in the ambulatory, acute care, and post-acute settings.
"We are honored by the overwhelmingly positive response from the investment community during this initial phase, " reports Mark Friess, WelVU founder and CEO. "Giving healthcare providers and enterprises the right tools to enhance their patient education efforts helps patients better visualize their personal health status, ultimately leading to improved understanding, decision making, use of healthcare resources, and health outcomes."
WelVU's technology platform uniquely combines the visual learning advantage of medical illustrations, the trusted voice of a healthcare provider, and power of a patient's personal clinical data to create a multimedia educational experience for the patient to reference and share long after they have left the exam room or hospital. Physicians, nurses, and educators create point-of-care educational videos and prescribe those videos directly to the patient for their convenient review on a smartphone, tablet, or desktop. The resulting multimedia experience extends the productivity of face-to-face care encounters and allows organizations to finally begin measuring data around patients' engagement with educational content.
"Data is a powerful tool often overlooked in patient education strategies," reports Friess. "By providing digital, multimedia education we can track how, when, and how often a patient turns to personalized educational resources provided by their provider or hospital for help adhering to their treatment plans and making better healthcare choices so they are ultimately healthier and happier."
This initial funding will be used to develop requested product features, fuel marketing and sales and efforts, support client deployments, and execute the broader WelVU strategy focused on improving readmission rates, patient satisfaction, health literacy, and health outcomes.
About WelVU:
WelVU is a leader in enterprise patient engagement platform technology. Its cloud-based patient engagement software platform gives healthcare providers digital tools to create personalized educational content aimed to improve patient satisfaction, outcomes, and costs. WelVU is the first patient engagement platform to use medical illustrations, a patient's personal medical data, and a provider's verbal conversation to create a multimedia care videos. The platform includes three powerful applications for ambulatory, acute care, and care management organizations. The unique visualization approach created by WelVU enables culturally sensitive and native language specific education to be delivered to patients so that they are equipped to make better health decisions. Learn more about WelVU at http://www.WELVU.com.