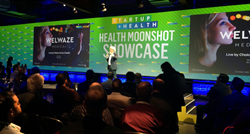 SAN FRANCISCO (PRWEB) March 07, 2019
Welwaze shared its innovation and high impact mission during the Moonshot Showcase. We highlighted Celbrea's potential to impact billions of women around the world by addressing issues concerning breast cancer, women's health, and access to care. Alex J. Ness, Founder and Executive Chairman at Welwaze together with Carlos García, CEO represented the company at this event. "I believe that together, we can help empower health tech leaders to transform the future of healthcare and bring new innovations to millions of women", said Alex.
What inspires me is the people who share a collective human spirit to help one another and make positive change in the fight against cancer, for instance, Dr. Jill Biden's amazing work at the Biden Cancer Initiative. In her keynote speech, she made a compelling case for initiatives that make a difference now and can be clearly acted upon. "From research to treatment to support - all of the improvements we are capable of making only matter if they actually improve lives", said Co-Chair Biden.