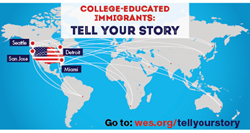 Whether you are a new arrival or long-time resident, working in your profession or in a "survival" job, your contribution to this study will make a difference"
New York, NY (PRWEB) February 05, 2015
Skilled immigrants in America who are seeking to use their foreign education and professional experience are needed for an important research study coordinated by World Education Services and IMPRINT (Immigrant Professional Integration). The online survey is widely regarded as a benchmark for the field to integrate and leverage the talents of college-educated immigrants, and identify ways to improve employment and economic opportunities for skilled immigrants across the U.S.
"Whether you are a new arrival or long-time resident, working in your profession or in a "survival" job, your contribution to this study will make a difference" said Paul Feltman, IMPRINT's Chair and Director of WES Global Talent Bridge.
Skilled immigrants from the cities of Detroit, Miami, San Jose, and Seattle are especially encouraged to participate in this important research. The survey is provided in four languages: English, French, Spanish and Vietnamese. It takes approximately 10 – 15 minutes to complete. All responses are anonymous and confidential. No names or personal details such as immigration status are collected. The survey results will be available in the Spring of 2015. Participants can enter a drawing to win a $100 Amazon gift card. To participate in this study please go to: http://www.wes.org/tellyourstory
##
About IMPRINT: IMPRINT is a coalition of organizations active in the emerging field of immigrant professional integration. The group works closely with business, government, higher education and other partners to raise awareness about the talents and contributions of immigrant professionals. IMPRINT also advocates for the adoption of policies and best practices that facilitate the rapid integration of skilled workers.
About WES Global Talent Bridge: WES was founded over forty years ago as a non-profit organization dedicated to helping international students and skilled immigrants leverage their training and to achieve academic and professional success. We have made it our mission to help individuals reach their full potential with our world class credential evaluations, guidance, and on-going support.