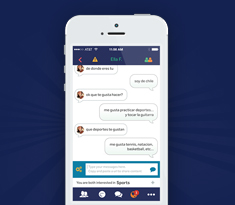 The WeSpeke apps enable users to turn any downtime into productive time, during which they can build language skills and make global connections.
Pittsburgh, PA (PRWEB) November 11, 2014
WeSpeke, the free social network for language learning, enables users from across the globe to practice languages, share cultures, and make connections in order to accomplish personal and professional goals. WeSpeke, described as "the polyglot Facebook", has a growing community that represents 170 countries and 130 languages ranging from Achinese to Zulu.
"In all corners of the world, people are constantly connected to their smart phones. The WeSpeke apps enable them to turn any downtime into productive time, during which they can build language skills and make global connections," said Michael Elchik, CEO of WeSpeke. "Whether they are looking to advance in their careers, prepare for a trip, succeed in a language class, or learn another language as a personal goal, our mobile apps extend the WeSpeke experience to help them accomplish this."
With the updated WeSpeke mobile apps, available to download for free from the iPhone App Store and Google Play Store, users can keep their conversations going and access language learning opportunities whether on a bus, in the subway, at the airport, in line for coffee, or hanging around at home. With this release, users will enjoy updated features that enable them to:

Register and login with their email address or Facebook or LinkedIn accounts
Have WeSpeke suggest their perfect language practice partners
Filter WeSpeke users by language, location, gender, and more
View all online users to talk to someone immediately
Text chat with their learning partners
Browse their chat history and resume chats at any time
Both apps are tightly integrated with the web version. Activity and conversations started on either mobile version of the app or on the web can easily be accessed on other versions, allowing users to continue to build their global friendships wherever they are.
About WeSpeke
WeSpeke is a free, safe, global digital learning platform designed for practicing languages, sharing cultures, and making international connections. Through WeSpeke, learners build language skills through collaborative and immersive conversations with native speakers using text, audio, and video. WeSpeke uses patent pending matching technology to bring individual users together based on complementary language interests and common life interests. Michael Elchik and Jaime Carbonell, Ph.D., Director of the Language Technologies Institute at Carnegie Mellon University in Pittsburgh, PA founded WeSpeke in 2010.