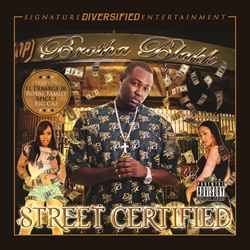 Life is a struggle, so I rap about that struggle. A lot of people may not like or agree with what I have to say, but you need to remember I am a product of my environment. When I write, you can feel the pain through the bleeding of my pen.
Phoenix, Arizona (PRWEB) November 30, 2014
Not only will the song be released, but also, listeners will have the opportunity to download the remix as a no cost bonus from brothablakk.com. Street Certified will be released on December 16, 2014. These projects have been in the works for months, so Blakk is excited to finally release his creations to fans. West Coast rap artist Brotha Blakk has a unique West Coast style of the past in his music that fans embrace. Blakk has a way of staying true to his West Coast roots, while remaining relevant in the industry and appealing to different crowds. Listeners have been anticipating the release of Street Certified ever since it was announced that an album was in the works, so Blakk is looking forward to getting a reaction from fans. According to Blakk, "Thanks everyone for being such good fans. We could not do this without all of the love and support you have given us over the years."
Brotha Blakk is regarded as one of Arizona's most versatile recording artists, performers and songwriters. Blakk has been featured in various albums, mix tapes and has collaborated with some of the most respected mainstream and underground artists. With sounds ranging from laid back G-funk to an all out assault of musical mayhem, Blakk provides listeners a unique insight into his personal life. Blakk has a website, brothablakk.com, that is updated regularly with blog posts, news, events, and merchandise. Fans are encouraged to check it out for their fix of Brotha Blakk.
For more information, visit http://www.brothablakk.com.