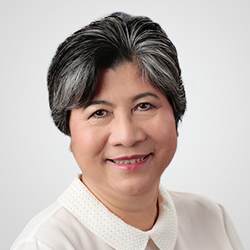 "I invite everyone to stop in and say hi—I look forward to getting to know the West Dermatology patients and customizing solutions to their skin problems," said Ms. Vu
Fresno, CA (PRWEB) July 21, 2017
West Dermatology is pleased to announce the newest addition to their Fresno, California location, Ms. "Tu" Tuantu Doan Vu, PA-C. Beginning July 17, 2017, Ms. Vu will join West Dermatology's large network of medical and cosmetic dermatology practices, bringing with her more than 27 years of experience in dermatology, skin cancer, and more. She graduated from the University of Florida College of Medicine Physician Assistant Program with a BS in Medicine and is certified by the NCCPA (National Commission on Certification of Physician Assistants).
"I can't wait to start the next stage of my career with West Dermatology, especially since I can stay in the Fresno/Central Valley area," says Ms. Vu. "It was important for me when contemplating the next part of my life and career to stay in the area. The fact that I'd be part of a committed team of fellow skin specialists dedicated to safe, effective solutions and the best in patient care is equally important to me."
Adds Dr. Ronald Shiell of the Fresno office, "We look forward to Ms. Vu's starting with us. With her background, training, and demeanor, she's going to fit in nicely; our staff and patients will certainly embrace her."
In cosmetic dermatology, Ms. Vu specializes in body contouring, IPL treatments, facial peels, and laser therapies. Furthermore, she's adept at injectable treatments, such as Botox®, Juvéderm®, Restylane®, Kybella®, and Bellafill®. But her knowledge and skill don't end there—she's also a specialist in medical dermatology and skin cancer.
"I gravitated toward health and medicine as a career because it runs in my family," Ms. Vu says. "I guess I inherited my family's inclination toward the healing sciences and to helping those in need. I think that's why my focus and knowledge are as varied as they are, including why treating patients with skin cancer is so important to me—I want to pass on all I know about skin cancer and the possible ways to prevent it so patients can avoid its consequences."
Ms. Vu gladly accepts all insurance plans offered at the Fresno office, where she'll make vital contributions in other key areas, as well: asthma, allergies, family medicine, and emergency medicine. She's also linguistically gifted, as she speaks Vietnamese, French, and Spanish in addition to English. For more on Ms. Vu and her approach to solving skin cancer issues and other dermatological concerns, visit http://www.WestDermatology.com/.
"Being able to help people improve their lives and well-being is such a special feeling to me," says Ms. Vu. "I'm grateful for the chance to continue giving back to the community that has been so good to me. I invite everyone to stop in and say hi—I look forward to getting to know the West Dermatology patients and customizing solutions to their skin problems."
For more than 60 years, West Dermatology has been providing patients with the best treatment possible through a combination of expertise, compassion, convenience, and comprehensive care. Through multiple locations across the West Coast in California, Nevada, and Arizona, West Dermatology offers a network composed of millions of patients with 24/7 access to board-certified dermatologists.
For more information please visit http://www.WestDermatology.com
West Dermatology
18831 Von Karman Ave. #300
Irvine, CA 92612
(702) 933-0225
info(at)westdermatology(dot)com