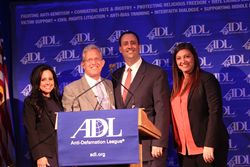 I am humbled to receive this honor from the ADL which does such great work - Gary Lesser
West Palm Beach, FL (PRWEB) May 14, 2015
The event co-chaired by Brian Seymour and Robin Bresky, the Palm Beach Jurisprudence Award dinner took place on Tuesday, May 12th at 6:00 pm at the Kravis Center's Cohen Pavilion located at 701 Okeechobee Boulevard in West Palm Beach.
"ADL is proud to salute Gary Lesser, 2015 Palm Beach Jurisprudence Award recipient, whose passion for excellence, high ethical and professional standards, dynamic leadership and social responsibility are all values embodied in this award," stated Hava L. Holzhauer, ADL Florida Regional Director. "Mr. Lesser is a strong advocate in his daily personal and professional life, seeking to achieve justice and fair treatment for all."
"I am humbled to receive this honor from the ADL which does such great work combating hatred and protecting our civil rights in this country," noted Gary Lesser. "I am glad to be one person working with so many other good people who have made a difference in our community."
About the Jurisprudence Award
ADL established the Jurisprudence Award to recognize individuals who have made an outstanding contribution to the legal profession and the community at large, while exemplifying the principles on which the ADL was founded.
The Anti-Defamation League, founded in 1913, is one of the nation's premier human relations and civil rights organizations, fighting anti-Semitism and bigotry of all kinds. Visit their website at: http://www.adl.org.
Lesser, Lesser, Landy & Smith, PLLC, the third oldest law firm in Palm Beach County, was established in 1927 by Joseph H. Lesser in West Palm Beach, and has been serving clients throughout Florida for over 88 years, focusing on serious personal injury and wrongful death cases. LLL&S enjoys a reputation in the community for superior legal skills, hard work, client service and high ethical standards. All Firm partners are "AV" rated by Martindale-Hubbell, the highest rating in ethics and legal ability. LLL&S is active in the community, and has donated significant time and financial support to numerous charities. The Firm has obtained substantial settlements and verdicts over the years and is well known to insurance companies and insurance defense lawyers as skillful advocates. This experience and reputation allows the Firm to obtain the best possible results for its clients.
For more information on LLL&S with offices in West Palm Beach, Boca Raton, and Stuart, call Meghan Fielder at 561-655-2028 (office) or 978-821-1930 (cell) or visit http://www.lesserlawfirm.com