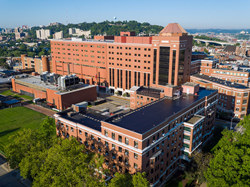 "The hospitals on this list represent the current vanguard in value-based care and we applaud their commitment to quality," said Ekta Punwani, 100 Top Hospitals® program leader at IBM Watson Health.
PITTSBURGH (PRWEB) March 07, 2019
West Penn Hospital Named One of the Nation's 100 Top Hospitals by IBM Watson Health™
West Penn Hospital, part of Allegheny Health Network (AHN), has been named one of the nation's 100 Top Hospitals by IBM Watson Health™. The new report, published this week in Modern Healthcare magazine, spotlights the top-performing hospitals in the U.S., based on a balanced scorecard of publicly available clinical, operational, and patient satisfaction data.
IBM Watson Health™ recognizes hospitals of all sizes, in five different categories – major teaching hospitals, teaching hospitals, large community hospitals, medium community hospitals, and small community hospitals. West Penn was among 25 facilities recognized in the "teaching hospitals" category.
The Watson Health 100 Top Hospitals® study uses independent and objective research to analyze hospital performance in 10 clinical and operational areas addressing: risk-adjusted inpatient mortality index, risk-adjusted complications index, mean healthcare-associated infection index, mean 30-day risk-adjusted mortality rate, mean 30-day risk-adjusted readmission rate, severity-adjusted length of stay, mean emergency department throughput, case mix- and wage-adjusted inpatient expense per discharge, adjusted operating profit margin, and HCAHPS score.
To create its list of the nation's top health care providers this year, IBM Watson Health researchers evaluated 3,156 short-term, acute care, non-federal U.S. hospitals. West Penn is one of just two hospitals in the Pittsburgh area, and one of four in Pennsylvania, to be named to the 100 Top Hospitals® list.
"We are extremely proud to once again be honored by one of the country's most respected health care industry analysts for the quality of care that we provide," said Ron Andro, president of West Penn Hospital. "West Penn has come such a long way over the last five years, which speaks volumes about the extraordinary talent and dedication of our employees, medical staff and volunteers."
It is the fifth time that West Penn Hospital has been named to the prestigious Top 100 Hospitals list, which has been published annually since 1993.
"West Penn is one of the region's finest hospitals and home to some of our network's premiere clinical institutes and programs," said Cynthia Hundorfean, president and CEO of AHN. "We are blessed to have such an exceptional team of administrators and caregivers at West Penn, and this well-deserved recognition is reflective of the outstanding care and compassion they provide to our patients every day."
A cornerstone of Pittsburgh's Bloomfield neighborhood, West Penn is a 361-bed teaching hospital and tertiary care facility. Among many leading clinical programs based at the hospital include AHN's Women and Children Institute, Autoimmunity Institute, Esophageal and Lung Institute, blood and marrow transplant program, and the West Penn Burn Center.
In 2017, West Penn opened the region's first After Hours Oncology Clinic, designed to address cancer patients' unique health needs outside the emergency room setting, and in 2018, the hospital opened a first-in-the-region Healthy Food Center, which provides fresh, healthful foods to patients with diabetes who are screened by their doctor as being food insecure. Other recent additions include the hospital's new Comprehensive Hernia Center, Headache Center, the AHN Bariatric and Metabolic Institute, and the AHN Voice, Swallowing and Nutrition Center.
West Penn also was the first hospital in Pittsburgh to earn the American Nurses Credentialing Center's Magnet Recognition, the nation's most prestigious honor for nursing excellence.
According to IBM Watson Health, based on the results of this year's study, if all Medicare inpatients received the same level of care as those treated in the award-winning facilities:

More than 103,000 additional lives could be saved;
More than 38,000 additional patients could be complication-free;
More than $8.2 billion in inpatient costs could be saved; and
Approximately 155,000 fewer discharged patients would be readmitted within 30 days.
"At a time when research shows that the U.S. spends nearly twice as much on health care as other high-income countries, yet still has poorer population health outcomes , the 100 Top Hospitals are bucking the trend by delivering consistently better care at a lower cost," said Ekta Punwani, 100 Top Hospitals® program leader at IBM Watson Health. "The hospitals on this list represent the current vanguard in value-based care and we applaud their commitment to quality."
For more information, visit http://www.100tophospitals.com.
###
About Allegheny Health Network
Allegheny Health Network (http://www.AHN.org), a Highmark Health company, is an integrated healthcare delivery system serving Western Pennsylvania. Among the network's 250 clinical locations are eight hospitals — Allegheny General Hospital, its flagship academic medical center in Pittsburgh; Allegheny Valley Hospital in Natrona Heights, Pa.; Canonsburg Hospital in Canonsburg, Pa.; Forbes Hospital in Monroeville, Pa.; Jefferson Hospital in Jefferson Hills, Pa.; Saint Vincent Hospital in Erie, Pa.; West Penn Hospital in Pittsburgh; and Westfield Memorial Hospital in Westfield, NY. AHN also is home to a comprehensive research institute; Health + Wellness Pavilions; home- and community-based health services; and a group purchasing organization. The network employs 20,000 people and has more than 2,400 doctors on its medical staff. Established in 2013, AHN's member hospitals share legacies of charitable care that date back more than 160 years.
About IBM Watson Health
Watson Health is a business unit of IBM that is dedicated to the development and implementation of cognitive and data-driven technologies to advance health. Watson Health technologies are tackling a wide range of the world's biggest health care challenges, including cancer, diabetes, drug discovery and more. Learn more.