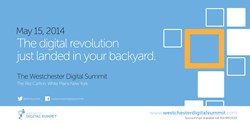 The summit provides a platform for guests to share and explore the tools necessary to propel successfully forward, together with teams, clients and partners.
White Plains, NY (PRWEB) December 04, 2013
Come spring of 2014, the Ritz-Carlton of Westchester will be hosting an impressive array of guests – like Facebook, ESPN, General Electric and dozens of the globe's top professionals in the digital and social media landscapes. Registration and sponsorships are available online at http://westchesterdigitalsummit.com
The second annual Westchester Digital Summit – dubbed one of the "4 Lesser Known Conferences That Deserve Your Attention" by Forbes – is landing in White Plains on Thursday, May 15, 2014. The event will bring together executives and professionals with a keen focus on driving business, bolstering branding, and exploring cutting-edge techniques and practices in the digital marketplace.
"Westchester is a hub of digital innovation and growing businesses, and it hosts national and global corporate headquarters," says Chris Dessi, CEO of Silverback Social and producer of the Westchester Digital Summit. "Through a day packed with collaboration and interactive programming, the summit provides a platform for guests to share and explore the tools necessary to propel successfully forward, together with teams, clients and partners."
Keynoting the event for the second year is Gary Vaynerchuk, founder of Vayner Media and focus of a recent New York Times centerpiece about the importance of social media. Vaynerchuk, a best-selling author and CEO, speaks around the nation habitually about branding strategies and is on the cover of Inc. Magazine's November 2013 issue, which features Vaynerchuk's digital know-how.
Joining Vaynerchuk for the Summit at the dais will be Facebook's Sales Director Brett Wein, General Electric's Executive Director of Global Brand Marketing Linda Boff, ESPN's Senior Director of Social Production Gabe Goodwin, and many other distinguished professionals.
The Westchester Digital Summit is produced by Silverback Social and Zanzarella Marketing, and is sponsored by The Business Council of Westchester, Co-Communications, On Time Transport and the Westchester County Office of Economic Development.
For information or to purchase tickets, visit http://www.westchesterdigitalsummit.com. Tickets for early registration are $350 until January 1st of 2014. The Summit runs from 9 a.m. – 6 p.m. at the Ritz Carlton Westchester in White Plains.
About the Westchester Digital Summit
The Westchester Digital Summit connects forward-thinking professionals from around the globe through speakers, breakout sessions, networking and more. The event pools digital marketing intelligence and social media acumen to create a forum for cutting-edge, innovative and creative strategies in the online marketplace. Top minds in a suite of industries give attendees the tools necessary to succeed in a rapidly-evolving landscape. Past speakers include top-level professionals from Facebook, IBM, Target, Fox Business, Heineken, and a host of other marquee-name companies. Visit the Summit at westchesterdigitalsummit.com, https://facebook.com/westchesterdigitalsummit and http://twitter.com/WDSummit.
Press contacts:
Kat McKee
Co-Communications, Inc.
(914) 666-0066
kat(at)cocommunications(dot)com