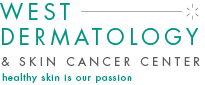 "We're excited about our role in bringing this new and amazing skin cancer facility to La Jolla and the rest of San Diego," said Dr. Goldman
San Diego, CA (PRWEB) September 20, 2017
West Dermatology, the foremost network of dermatology and skin cancer centers in the southwest United States, is proud to announce the grand opening of the West Dermatology & Skin Cancer Center in San Diego, CA. This new center will be directly across the hall from sister practice Cosmetic Laser Dermatology in San Diego's Golden Triangle, forming the nation's premier cosmetic and medical dermatology treatment and research facilities.
West Dermatology & Skin Cancer Center will offer patients unsurpassed services, state-of-the-art technology, unparalleled expertise from the best-trained skin cancer specialists in the country, and the latest, most advanced dermatological treatments available.
Dr. Mitchel Goldman, medical director of West Dermatology California and Cosmetic Laser Dermatology, as well as double board-certified dermatologist and cosmetic surgeon, says of this partnership, "We're excited about our role in bringing this new and amazing skin cancer facility to La Jolla and the rest of San Diego. Patients can expect the best skin cancer care in the form of expert diagnoses, customized treatment solutions, and research-backed procedures and techniques."
Board-certified dermatologists and skin cancer specialists Stacy Tompkins, M.D. and Brook Brouha, M.D., Ph.D., as well as Mohs Fellowship-trained surgeon Shane Hamman, M.D, will oversee West Dermatology & Skin Cancer Center. These three specialists offer a combined 44 years of dermatological experience and expertise, which allows them to provide custom treatment plans and peace of mind for each patient. Moreover, patients can expect access to advanced skin cancer treatments such as Mohs micrographic surgery and photodynamic therapy.
Dr. Tompkins says, "As a native San Diegan who's been practicing dermatology for more than 20 years, I'm thrilled to be a part of this groundbreaking skin care center. Our patients will benefit from not only our diagnostics and custom treatments, but also our advanced clinical research, which will help us provide the most comprehensive skin care in the southwest United States."
"Every patient is unique, and each patient expects customized attention and care delivered with care and compassion," Dr. Hamman adds. "Because they deserve the best skin cancer care and treatment, we strive to connect with each patient as if they were part of our own family. From medical management to surgical procedures, we aim for perfection in treating each patient that walks through our doors."
To commemorate the grand opening, a ceremony is set for Thursday, September 21, 2017, 5-8 p.m. PST. Patients will be able to tour the skin cancer surgery center, learn about the one-of-a-kind facility, and enjoy complimentary drinks and hors d'oeuvres. To find out more about the clinic, visit http://WestDermatology.com/Skin-Care-Center
West Dermatology & Skin Cancer Center
9339 Genesee Ave, Suite 350A,
San Diego, CA 92121
(858) 263-0571
"I'm thrilled at the chance to work with an expert team of specialists at a state-of-the-art facility like the West Dermatology & Skin Cancer Center," says Dr. Brouha "Patients can take advantage of our resources, top-notch compassionate care, and a warm, relaxed setting to receive the best dermatological and skin cancer care possible. Stop by and see us!"
Dr. Goldman adds, "We're honored to offer San Diego and the surrounding areas with skin cancer solutions and services not found elsewhere. At this ceremony, patients will get a unique behind-the-scenes look and enjoy live demos, office tours, and a complimentary skin analysis. Make plans to visit our grand opening; we hope to see you there!"
For more than 60 years, West Dermatology has been providing patients with the best treatment possible through a combination of expertise, compassion, convenience, and comprehensive care. Through multiple locations across the West Coast in California, Nevada, and Arizona, West Dermatology offers a network composed of millions of patients with 24/7 access to doctors, records, and bill payment.
For more information please visit http://www.WestDermatology.com
West Dermatology
680 Newport Center Drive
Suite 150
Newport Beach, CA 92660
(702) 933-0225
info(at)westdermatology(dot)com