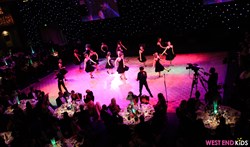 Last year West End Kids helped the charity raise a staggering £482,000.
(PRWEB UK) 7 November 2013
This is the biggest event in the charity's calendar - last year West End Kids helped the charity raise a staggering £482,000.
"Grosvenor House was designed specifically for the American market and was opened in 1929," said Martin Williams, founder and artistic director, West End Kids. "So for this year's Ball we have decided to take the audience back to the hotel's roots with a routine of song and dance from Broadway musicals all set in the 1930s. Guests will be treated to the West End Kids performing hits from 42nd Street, Anything Goes, and Mack & Mabel."
"We're all really excited about Saturday's performance," said Esme Rothero, 15 from Brockley. "The Great Room is the perfect setting for our 1930s routine. Last year our performance at the CHILDREN with CANCER Ball was really well received, but I think they're all in for a real treat this year."
West End Kids will be holding national auditions for its 2014 troupe in Central London on Saturday, 4th January, 2014. To register, please visit http://www.westendkids.co.uk or call 0208 123 2025.
About West End Kids:
West End Kids is the UK's highest profile musical theatre song and dance troupe. The troupe was founded in 2001 by Martin Williams and is now also established as one of the leading dance schools in London. West End Kids, which comprises some of the country's most talented young singer/dancers, performs for tens of thousands of people every year at major events and venues. Recent significant performances include: Dickens Bicentennial Dinner at Mansion House; Commonwealth Centennial Banquet at Westminster Hall; West End LIVE in Trafalgar Square; London 2012 'One Year To Go' Ceremony in Trafalgar Square; CLIC Sargent Christmas Celebrations at the Royal Albert Hall; and Voice In A Million at The O2 Arena.
For more information about West End Kids, including how to audition and how to book the troupe for an event, please go to http://www.westendkids.co.uk.
About CHILDREN with CANCER
CHILDREN with CANCER UK is the leading national children's charity dedicated to the fight against all childhood cancers. In 2013 the charity celebrates 25 years of funding remarkable medical research and treatment. What started as a small memorial charity in 1988 has evolved into a major force in paediatric oncology, raising over £150 million.
For further information about CHILDREN with CANCER please go to http://www.childrenwithcancer.org.uk To make a small donation to the charity you can text CCUK001, CCUK005 or CCUK0010 to 70070 to donate £1, £5 or £10.