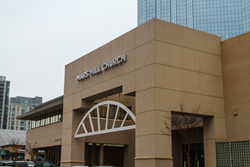 Bellevue, WA (PRWEB) May 23, 2014
As another expression of its desire to partner with local churches to benefit their communities, Western Seminary is pleased to announce the opening of a Seattle-based teaching site to serve new and current students in the greater Seattle region. The site will be hosted by Mars Hill Church in Bellevue, Washington, with Western providing both the faculty and curriculum. Students will have the opportunity to complete a Graduate Studies Certificate entirely at this location or to enroll in credit courses that may be applied towards the completion of a diploma or master's degree through additional coursework completed at one of Western's campuses: Portland, San Jose, Sacramento and Online.
Courses will be offered at the Seattle teaching site starting in the fall of 2014. Interested students may apply now for admission. More information can be found online at http://www.westernseminary.edu/seattle or by emailing seattle(at)westernseminary(dot)edu.
Western Seminary is an accredited graduate school founded in 1927. It offers trustworthy and accessible training for gospel-centered transformation at both the graduate credit and personal enrichment levels for those currently serving, or aspiring to serve, in key ministry leadership roles. The Western system consists of four campuses (Portland, OR; San Jose and Sacramento, CA; and Online) that together serve approximately 950 credit students annually. For more information, please contact Kate Schleusner, Communications Director, at 503.517.1975.
Mars Hill Church began in 1996 as a Bible study in the Wallingford home of Mark and Grace Driscoll just north of Seattle. Today, the congregation is distributed across 15 locations in five different states, reaching millions around the world through a robust outward-facing ministry that includes podcasts, music, events, and websites like theResurgence.com. Mars Hill has been named one of the largest and fastest-growing churches in America, as well as one of the most innovative. Pastor Mark's sermons are viewed millions of times per year online and regularly rank #1 on iTunes podcast charts.