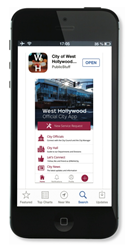 The City of West Hollywood has launched an app, affectionately called a 'Power Tool,' that helps connect residents and businesses to West Hollywood City Hall.
West Hollywood, CA (PRWEB) May 08, 2015
Now, "there's an app for that" in the City of West Hollywood. The City has launched its West Hollywood Official City App, which includes a variety of features and functions to help connect West Hollywood residents and businesses to City Hall.
The app is available as a free download for iPhone users on the App Store and for Android users on Google Play. In addition, the service request function is available as a free Public Stuff download for Windows Phone users at the Windows Phone Store and for BlackBerry users at BlackBerry World; users can download the Public Stuff app and select "West Hollywood" as the City. Accessing the City's website, http://www.weho.org, on a mobile device also provides links for users to download the app.
A primary function of the City's new app is its service request tool. The tool, featured front-and-center on the app interface, allows people to quickly and easily report issues. Users can report potholes, graffiti, noise, or abandoned items — the City's Department of Public Works will create a service ticket and respond to issues. Requests that are not marked "private" by users are mapped so that issues and fixes can be monitored by other users. The service request area also provides links and information to business licensing, water conservation, trash and recycling, and animal control, among other topics. For people who prefer using a desktop or laptop computer rather than a smartphone device, the City's website also features a page with service request tool functions — http://www.weho.org/servicerequest.
The City app features detailed information about City Officials, a guide to Departments and Divisions at West Hollywood City Hall, a link to the City's Engage WeHo interactive engagement tool, FAQs, and a link to managing email subscriptions for City communications. There are sections for City News, a City Calendar, Arts and Culture events, and Recreation programs, as well.
To get the word out to people in the community, the City has developed a targeted advertising and social media campaign called "Power Tool" to promote awareness about the app. The ads, featuring the slogan "put the power in your pocket" draw a visual connection to the app as a tool that can help get things fixed quickly. The Power Tool campaign has featured outdoor advertising on West Hollywood bus shelters, postcards distributed to local businesses, and ads in local community publications and digital sites.
West Hollywood is a highly digitally connected community. The City's website receives approximately 200,000 page views each month; 40 percent of visits to http://www.weho.org come from mobile devices. In July 2014, the City launched a redesign of the mobile version of its website to respond to the high number of mobile users accessing information in West Hollywood.
West Hollywood's app is powered by Public Stuff, which helps cities across the nation with technology that makes it easier for residents, businesses, and community members to connect with city leadership.
For additional information about the West Hollywood Official City App, please contact the City's Department of Public Works at (323) 848-6375. For people who are deaf or hard of hearing, please call TTY (323) 848-6496.