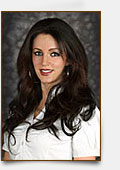 West Hollywood, CA (PRWEB) April 30, 2014
West Hollywood cosmetic dentist, Dr. Poneh Ghasri, is now offering a Spring Special on Invisalign. A well-balanced, properly proportioned smile can bring self-confidence and possibly even greater personal and professional success. Invisalign offers older teens and adults a discreet, comfortable way to get the smile of their dreams.
About Dr. Poneh Ghasri, Dentist West Hollywood
As a West Hollywood Invisalign Preferred Provider, Dr. Ghasri is skilled, consistent and recognized for her excellence. Dr. Poneh Ghasri completed her undergraduate degree in neuroscience before continuing her education at the University of California, Los Angeles, School of Dentistry, from which she graduated with honors. Today, Dr. Ghasri, West Hollywood teeth whitening expert, is committed to advancing her knowledge and abilities by completing certification programs in Invisalign, Lumineers and dental implant reconstruction and continues to take advanced courses to provide her patients with the latest techniques and best possible care.
Invisalign uses clear aligners rather than brackets and wires to move teeth into their proper positions. This system is precisely planned so that each new set of aligners nudges teeth further into alignment until all the teeth are straight, a process that can take about a year for many patients. Treatment with Invisalign is comfortable and patient-friendly. The aligners can be removed for eating and drinking, and patients need no special or complicated cleaning routines to keep their teeth and aligners clean of plaque and debris.
West Hollywood dentist, Dr. Poneh Ghasri, is offering a Spring Special that includes complimentary consultations, complimentary dental records and up to $1,000 off Invisalign treatments. Patients may also benefit from a complimentary teeth whitening with a value of up to $400. This Spring Special expires April 30, 2014, and some restrictions may apply. Dental insurance with orthodontic coverage often covers treatment with Invisalign, and many HSA plans will reimburse treatment.
Dr. Poneh Ghasri is a skilled West Hollywood dentist and offers comprehensive dental care. She is well-known for her smile makeovers and provides patients with the treatments they need to achieve healthy, attractive smiles, including tooth-colored fillings, dental bonding, Lumineers, porcelain veneers and dental implants. Smile treatments are carefully planned, and patients are provided with treatment recommendations and alternatives when appropriate. Some patients may not be candidates for Invisalign but will have other options for smile transformations.