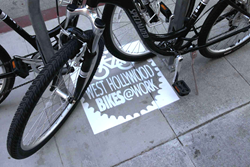 The City of West Hollywood's new 'Bikes@Work' program will encourage employees to use bicycles, rather than cars, to move around the city.
West Hollywood, CA (PRWEB) March 25, 2015
The City of West Hollywood is launching a new forward-thinking employee bikeshare program. Today, the City launched West Hollywood Bikes@Work at a morning kick-off at West Hollywood City Hall. The pilot program makes 10 bicycles available to City employees to borrow on a short-term basis to run work-related trips without using a car, as well as to commute between City Hall and local satellite parking garages. The launch event provided City staff members with safety training and an opportunity to test-ride the bikes.
The eco-friendly program promotes a healthy form of alternative transportation, and is another progressive model embraced by the City of West Hollywood. The program will encourage employees to use bicycles, rather than cars, to move around the City and it will help City employees reach off-site satellite parking lots during construction of the Automated Parking Garage and Community Plaza at City Hall.
The popularity of the two-wheeled human-powered form of transportation continues to soar. In Los Angeles County, events such as CicLAvia, which most recently took place on Sunday, March 22, 2015 in the San Fernando Valley, are demonstrating the region's capacity to transform our relationship to car-free transportation. In West Hollywood, groups such as the West Hollywood Bicycle Coalition help to catalyze interest in bicycling.
The City of West Hollywood has made investments in bike lanes and routes across the City. It has added bike sharrows to indicate to motorists and cyclists when a roadway is a shared space and it has increased the availability of bike racks for parking. In addition, the City is in the process of updating its Bicycle & Pedestrian Mobility Plan, which evaluates and recommends improvements to the City's existing bicycle network and facilities based on current best practices, emerging and innovative design strategies, and community input. The City is also actively pursuing development of a citywide bikeshare program for the general public, and is currently collaborating with neighboring cities and County agencies and conducting a feasibility study on public bikeshare.
West Hollywood Bikes@Work is powered by Bike Share America, part of Bikes and Hikes LA, a West Hollywood-based company that offers bike rentals and tours.
For more information, please call the City of West Hollywood's Long Range and Mobility Planning Division at (323) 848-6827. For people who are deaf or hard of hearing, please call (323) 848-6496.
# # #