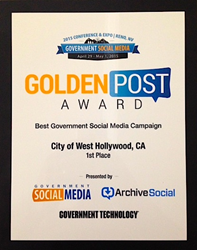 West Hollywood's social media campaign features 'Alice in WeHoLand' a video parody of Taylor Swift's hit song Shake It Off. To date it's received more than 780,000 YouTube views.
West Hollywood, CA (PRWEB) May 01, 2015
The City of West Hollywood was presented today with a first-place award for Best Government Social Media Campaign at this year's Government Social Media Conference & Expo (GSMCON) in Reno, Nevada. The City was recognized with a Golden Post Award for excellence in its social media efforts to promote pedestrian safety and, specifically, for its Alice in WeHoLand YouTube safety video, which debuted in October 2014. It is aimed at encouraging drivers and pedestrians to pay more attention to crosswalks and to devote less time to digital distractions. To date, the video, available at https://youtu.be/4OCPSYRfT6o has received more than 780,000 views.
The pedestrian safety video, Alice in WeHoLand, was produced by the City of West Hollywood's Public Information Division and was conceived by YouTube sensation Todrick Hall, a singer, actor, director, choreographer, and dancer who rose to the semi-finals of American Idol in its ninth season. He received international acclaim for his creative role in the CLIO Award-winning safety video for Virgin America.
Alice in WeHoLand is a humorous West Hollywood-themed parody of Taylor Swift's hit song Shake It Off, which broke Billboard records by entering the Hot 100 chart at No. 1. The dance-filled video offers viewers a colorful twist on Alice's Adventures in Wonderland set to new crosswalk safety lyrics, written by Hall, about curbing smartphone use and walking and driving safely. The video features a vibrant cast of characters with drag queens, gym-bunnies, models, go-go boys, and fierce dancers who perform a pulsating choreographed routine in West Hollywood's iconic Rainbow Crosswalks, as well as other recognizable locations in the City.
Dozens of dancers, models, and actors appear as characters in Alice in WeHoLand, including: renowned drag queen Willam Belli as Alice; Todrick Hall as White Rabbit; Andrew Christian models Jon Varak as Mad Hatter, Pablo Hernandez as Tweedle Dee, and Murray Swanby as Tweedle Dum; Glee's Alex Newell as March Hare; YouTube personality Davey Wavey as himself; actor/model Steven Dehler as himself; model/fitness trainer Ronnie McNaughton as himself; and reigning "Queen of YouTube" GloZell as herself.
GSMCON is the first social media conference for U.S. city, county, and state government agencies. The conference is organized by Government Social Media and is co-hosted with Archive Social. GSMCON's Golden Post Award is the first major awards program exclusively designed to recognize the outstanding use of social media by U.S. local and state government agencies. There were five finalists in the category for Best Government Social Media Campaign; there were 171 total entries across five unique award categories. Approximately 6,000 votes were cast online to assist in judging of awards.
The City's pedestrian safety social media efforts are part of the education component of a coordinated three-part pedestrian safety plan for "Engineering, Education, and Enforcement," which is currently being implemented by the City. For more information about pedestrian safety, including safety tips, visit http://www.weho.org/pedestriansafety.
For additional information, please contact Lisa Marie Belsanti at (323) 848-6378. For people who are deaf or hard of hearing, please call TTY (323) 848-6496.