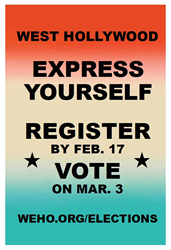 West Hollywood's voter registration campaign seeks to leap through clutter with its creative approach — materials were designed to echo rock-and-roll posters from Sunset Strip.
West Hollywood, CA (PRWEB) February 11, 2015
The City of West Hollywood launched a voter registration effort in January with colorful materials that remind people to register and vote. Now, with the voter registration deadline just one week away, the City is intensifying its register-and-vote message. As part of the City's continuous efforts to reach out and inform residents about the importance of voting, the West Hollywood City Council, at its general meeting on Monday, February 2, 2015, proclaimed February 2015 as "Get out the Vote" Month.
The City of West Hollywood's General Municipal Election will be held on Tuesday, March 3, 2015. West Hollywood residents will cast votes for three members of the City Council, as well as for four members of the Board of Trustees for the Los Angeles Community College District, and a proposed charter amendment affecting the Los Angeles Unified School District (LAUSD) election. The voter-registration deadline for West Hollywood residents is Tuesday, February 17, 2015. Registered voters do not need to re-register unless they have moved.
The City's voter registration campaign seeks to leap through clutter with its creative approach. Materials were designed to echo rock-and-roll posters from West Hollywood's famed Sunset Strip. Call-to-action messages, which urge residents to register and vote, are inspired by popular song lyrics from Madonna, The Doors, and Janis Joplin.
Red, white, and blue versions of the designs say "Express Yourself" or "You Hold The Key," while more brightly hued versions humorously suggest "Break On Through" or "C'mon Baby." The theme of the campaign, reflected in a fifth design, is that "Your Voice Matters" when it comes to registering, voting, and being a part of the democratic process of choosing local elected representatives.
The effort includes dozens of street banners on light poles along Santa Monica Boulevard; print and online advertising in community news and entertainment publications; social media posts and City staff email footers; as well as postcards, which were distributed to City of West Hollywood businesses.
Materials were created in English and Russian, as thousands of people live in the City who identify a former area of the Soviet Union as their primary ancestry.
The City of West Hollywood currently has more than 25,000 residents who are registered to vote. All materials for the register-and-vote effort feature a website URL to the City's elections page, http://www.weho.org/elections, which provides detailed election information and links to the California Secretary of State's Voter Registration page, the Los Angeles County Registrar/Recorder's website, and specific links for polling places and sample ballots.
For additional information about the upcoming West Hollywood City Council election, please visit http://www.weho.org/elections.
For more information, please contact the City Clerk's Office at the City of West Hollywood at (323) 848-6409. For people who are deaf or hard of hearing, please call TTY (323) 848-6496.