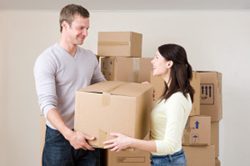 (PRWEB) November 21, 2013
Melrose Moving Company has released a new blog explaining the benefits brought by moving insurance.
Moving insurance is a policy which guarantees a payment if one or more objects suffer damages or are stolen during a relocation. Moving insurance is an essential product and the better people understand its importance, the safer relocation will be. Since moving companies do not guarantee a refund if valuables are destroyed or damaged during transportation, it is up to the client to get financial coverage. The best way to do this is by purchasing moving insurance. Movers in West Hollywood encourage people to buy coverage by presenting the many benefits of having such a policy.
The most important benefit of having moving insurance is that allows people to save money in case something happens and their objects are damaged. Covering the entire costs of fragile, yet expensive, items like electronics, chinaware, lamps and others is very expensive. By paying an affordable premium, clients will benefit, in case their items are damaged, from a payout from the agency.
Moving insurance is an accessible product, available both at independent agencies and at moving companies. Movers are directly interested in selling insurance to their clients because it prevents many disagreements and misunderstandings. Many people are confused if an accident happens and they lose their objects and the moving company does not offer them a refund for the destroyed items. This, in fact, is normal. A moving company will not issue a refund if valuables are lost or damaged during transportation due to external causes. As long as it is not the company's fault, clients cannot ask to have the cost of their damaged items returned by the movers. But, if they have insurance, they can get insurance proceedings to cover the cost of their lost items.
"Moving companies in West Hollywood encourage people to buy moving insurance. Moving insurance is an important investment which should be made before relocation!" said Russell Rabichev, Marketing Director for Melrose Moving.
Melrose Moving Company is a Los Angeles-based residential and commercial moving company. Originally established in 1999, and has been so popular that the owner started various other moving companies, such as 1 Los Angeles Movers, Movers Los Angeles, and Los Angeles Commercial Movers, all of wh ich are operated by Melrose Moving. The moving company is licensed by the Public Utility Commission (PUC), and has an A rating with the Better Business Bureau (BBB). Melrose Moving accepts cash, checks, credit cards, and Paypal.
For more information, click on http://www.movingcompanywesthollywood.com. Call now: 1.800.431.3920.