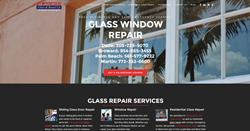 Homeowners in West Palm Beach can frequently experience a jammed patio door or busted home window
West Palm Beach, FL (PRWEB) November 27, 2015
Express Glass Repair and Board Up, West Palm Beach's five-star rated window repair service at http://www.expressglassfl.com/, is proud to announce a new blog series for Florida homeowners. Hurricanes and burglaries are top home safety issues for residential glass repair needs.
"Homeowners in West Palm Beach can frequently experience a jammed patio door or busted home window," commented Yaniet Santos, General Manager of Express Glass. "At that moment, their home is left vulnerable and a simple duct tape and cardboard job isn't enough. That's why we've issued a blog specifically for residential glass repair during the critical Fall season."
To read the blog series for residential glass repair in West Palm Beach, go to: http://www.expressglassfl.com/blog/tag/west-palm-beach/. Information for about 24 hour glass repair and replacement for home windows and patio doors is available.
In West Palm Beach, When Sliding Glass Doors Go off the Rails, It's Time for Residential Glass Repair
Florida homeowners have many reasons to call for residential glass repair. Patio doors can go off the rails and remain partially open allowing the home to be vulnerable to bad weather or burglary. Sliding glass doors can become stuck leaving family or pets stranded on a balcony. Many types of accidents happen in seconds where emergency glass repair and replacement becomes a priority.
Often, given how busy summer is in West Palm Beach, these repairs are put off until the Fall, yet that is peak time for burglaries and other problems.
Express Glass and Board Up has issued a new blog series for residential glass repair in West Palm Beach. The expert staff at Express Glass has experienced every residential broken glass situation imaginable and offers answers for each one. Homeowners need quick service at the moment shattered glass or broken patio doors occur. Florida locals have 24/7 emergency residential glass repair available online and easy to access.
About Express Glass Repair and Board Up
Express Glass and Board Up Service is a family owned and operated glass repair business with more than 20 years of experience. The company's professional technicians and the large variety of inventory make Express Glass the top glass repair service. If customers are looking for West Palm Beach residential glass repair as well as glass repair in Delray Beach or Miami glass repair, contact the company for a free estimate. If customers need a 24/7 emergency Sliding Glass Door repair service in West Palm Beach or Boca Raton or Miramar, technicians are standing by. Express Glass of Florida specializes in commercial and residential sliding glass door repair and window repair due to; hurricanes, burglary, age, accidents and other shattered glass issues. Home or business glass repair is the company's main priority.
Express Glass Repair and Board up
http://www.expressglassfl.com/