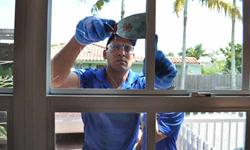 Whether it's a home or business, for any reason, our goal is to provide the best information for emergency glass repair
West Palm Beach, FL (PRWEB) November 21, 2015
Express Glass and Board Up,Florida's top-rated service for 24 hour glass repair and replacement, announces it has passed a major social media milestone. The company has just topped 34,000 views on Google + for its page focused on Fort Lauderdale glass repair services and ifnormation.
"Our view milestone tells us that customers are serious about 24 hour glass repair service," comments Yaniet Santos, General Manager of Express glass. "Whether it's a home or business, for any reason, our goal is to provide the best information for emergency glass repair. These views show we are achieving our goal. Interestingly, we are finding Fort Lauderdale to be among the more 'digital' of communities in South Florida as they turn to the Web for information."
To view the Google+ page for Express Glass and Board up go to; https://plus.google.com/117547181416928531272/posts?gl=US&hl=en-US. Information about 24 hour emergency glass repair and replacement for the Florida area is available. To view the Fort Lauderdale 24 hour glass repair page go to; http://www.expressglassfl.com/fort-lauderdale-glass-window-repair/.
Fort Lauderdale Residents have 34,000 Reasons to Learn about 24 Hour Glass Repair
24 hour glass repair in Fort Lauderdale can become an emergency for many reasons. Seasonal hurricanes can break window and patio door glass with flying debris. Sliding doors can experience dangerous shattered glass due to a burglary. Florida residents normally search the internet first for quick and easy answers to these critical dilemmas.
Express Glass is proud to announce a milestone, 34,000 views on Google+ about 24 hour glass repair for the Fort Lauderdale area. Fort Lauderdale businesses and homeowners have urgent questions about broken glass. The company has set a goal to provide information about 24 hour glass repair for any reason needed. 34,000 Florida locals have viewed the site to find information about 24 hour glass service such as repair vs. replace, affordability, types of window glass and hurricane preparedness. In Florida, each reason has an easy answer from an Express Glass Professional.
About Express Glass Repair and Board Up
Express Glass and Board Up Service Inc. is a family owned and operated glass repair business with more than 20 years of experience. Their professional technicians and the large variety of inventory make Express Glass the top glass repair service. If customers are looking for Fort Lauderdale 24 hour glass repair, or Miami glass repair as well as emergency glass repair in Delray Beach or West Palm Beach, please reach out to the company for a free estimate. If customers need a 24/7 Sliding Glass Door repair service in Miami or Boca Raton or Miramar, technicians are standing by. The company specializes in sliding glass door repair and window glass repair; technicians will handle any glass replacement situation efficiently. Home or business glass repair is the company's main priority.
Express Glass Repair and Board up
http://www.expressglassfl.com/