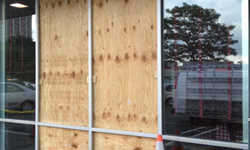 Irma was noted as one of the largest hurricanes in the history of the Atlantic Ocean and we were fortunate to avoid a direct hit to West Palm Beach
West Palm Beach, Florida (PRWEB) September 29, 2017
September 29, 2017 - West Palm Beach, Florida
Express Glass and Board Up, quick and professional glass repair and board up company serving the West Palm Beach community, has issued an alert for West Palm Beach on post-Hurricane glass repair clean up services. After Hurricane Irma, many area residents are pro-actively searching for emergency glass repair and all types of glass repair services for post-Hurricane cleanup in West Palm Beach.
"Irma was noted as one of the largest hurricanes in the history of the Atlantic Ocean and we were fortunate to avoid a direct hit to West Palm Beach," explained Yani Santos, general manager of Express Glass. "It is vital, however, that both West Palm Beach businesses and homeowners prioritize glass repair calls to we can prioritize who gets post-Hurricane glass repair and clean up services, first."
Interested persons in West Palm Beach and nearby cities are directed to the West Palm Beach landing page at http://www.expressglassfl.com/west-palm-beach-glass-window-repair/. There, they can either call in or reach out via the website for priority services; again, priority will be given to those needing emergency glass repair work post-Hurricane. Those seeking emergency glass repair, especially commercial glass repair, are urged to visit http://www.expressglassfl.com/commercial-glass-repair/emergency-glass-repair-services/.
West Palm Beach Hurricane Relief and Glass Repair Services
Here is background on this press release. In the light of Hurricane Irma, Express Glass & Board Up like all glass repair services in Palm Beach County are more than overwhelmed with inbound calls for both residential and commercial glass repair. The company is issuing this alert for customers to prioritize their post-hurricane glass repair service calls.
Tropical storms and hurricanes can be a common occurrence each fall in the West Palm Beach community. A simple sandbag and DIY board up to a home or business has been known to be effective in past years. Category 1 to 3 storms may leave debris, but not devastate a property. Recent storms have confirmed 2017 may be an especially difficult year for Florida residents. Hurricane Irma is a case in point. Due to Hurricane Irma's threat to all of South Florida, Express Glass & Board Up has issued an alert on post-hurricane emergency glass repair services. Quick and professional repair services could help West Palm Beach residents save time while multitasking.
About Express Glass and Board Up
Express Glass and Board Up Service Inc. is a family owned and operated glass repair business with more than 20 years of experience at http://www.expressglassfl.com/. Their professional technicians and the large variety of inventory make Express Glass the top glass repair service. If customers are looking for West Palm Beach sliding glass door repair or Ft. Lauderdale glass repair as well as glass repair in Delray, please reach out to the company for a free estimate. If customers need a 24/7 Sliding Glass Door repair service and Board Up in West Palm Beach, Ft. Lauderdale or Boca Raton, technicians are standing by. The company specializes in sliding glass door repair, board up and window glass repair; technicians will handle any glass replacement situation efficiently. Home or business glass repair is the company's main priority.