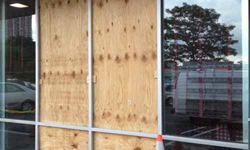 We believe we are unique as a local glass repair company in offering emergency glass repair services to West Palm Beach
West Palm Beach, Florida (PRWEB) June 12, 2017
Express Glass & Board Up, a local leader in glass repair services in West Palm Beach, is proud to announce important clarifications on emergency glass repair services as the summer, 2017, hurricane season begins. Many non-local, national chains advertise emergency glass services but because they are not local to the West Palm Beach community, they may frustrate locals at key times when emergency glass repair services are needed.
"We believe we are unique as a local glass repair company in offering emergency glass repair services to West Palm Beach," commented Yaniet Santos, general manager of Express Glass. "Many consumers are misled into believing that a national chain that may answer the phones 24 hours a day actually provides emergency glass repair services. Answering the phone is not the same as being available, which we are. For this reason, we thought it paramount to issue this clarification as we enter the busy summer season."
To learn more about updated emergency glass repair services, visit http://www.expressglassfl.com/commercial-glass-repair/emergency-glass-repair-services/. To learn more about West Palm Beach glass repair services, including a local number for emergency glass repair calls, visit http://www.expressglassfl.com/west-palm-beach-glass-window-repair/.
Clarifications on Emergency Glass Repair Services
Express Glass Repair and Board Up is announcing the following clarifications on its emergency services. First and foremost, the company is a local business, with local trucks available for local services. This is in contrast with national chains which are often nothing more than telephone answering services and "lead generation" systems. They may be answering the phones 24 hours a day, but they are not, necessarily, able to respond to calls. Second, the company is clarifying that its services are available twenty four hours a day, seven days a week. Third, the company is clarifying that it offers glass repair services for both residential and commercial customers. Many commercial customers can simply not wait even a day for a glass repair service because broken or non-working glass windows or doors may shut down a business. Interested parties who wish to explore these differentiators should use the website to reach out for interview opportunities.
About Express Glass Repair and Board Up
Express Glass and Board Up Service Inc. is a family owned and operated glass repair business with more than 20 years of experience. Professional technicians and the large variety of inventory make Express Glass the top glass repair service. If customers are looking for West Palm Beach window glass repair as well as glass repair in Delray Beach or Miami glass repair, please reach out to the company for a free estimate. If customers need a 24/7 Sliding Glass Door repair service in West Palm Beach or Boca Raton or Miramar, technicians are standing by. The company specializes in sliding glass door repair and window glass repair; technicians will handle any glass replacement situation efficiently. Home or business glass repair is the company's main priority.
Express Glass Repair and Board up
http://www.expressglassfl.com/