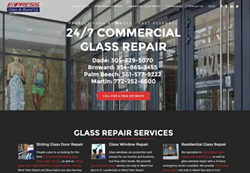 We have been so busy keeping up with the growing number of customers we service in West Palm Beach that our website was put on the back burner for a while
West Palm Beach, FL (PRWEB) January 23, 2015
Express Glass & Board Up, West Palm Beach's leader in glass repair 24/7, is proud to announce the unveiling of their recently updated city page for West Palm Beach, Florida. Part of the company's ambitious 2015 Internet plan, major South Florida cities are receiving upgrades city-by-city.
"We have been so busy keeping up with the growing number of customers we service in West Palm Beach that our website was put on the back burner for a while," said Yani Santos, general manager of Express Glass. "Among specific customer requests in West Palm Beach were to emphasize our emergency, 24/7 glass repair services for the city."
To learn more about the 24/7 glass repair services Express Glass can provide in West Palm Beach, please visit http http://www.expressglassfl.com/west-palm-beach-glass-window-repair/.
West Palm Beach, Florida - Upgrades to City Information on 24/7 Emergency Glass Repair
West Palm Beach residents want glass repair when they want it: twenty-four hours a day, seven days a week. Many residents and businesses can be in a panic when a glass emergency happens. For example, a business can experience vandalism or an employee accident, and a residential customer might experience an accidental breakage due to a home equipment issue such as a lawn mower throwing up a rock. In either case, it is imperative to get the glass fixed on a 24/7 emergency basis. Therefore, the new West Palm Beach landing page explains the efficiency of response and action time, unique to West Palm Beach.
The page has a direct link to more information on 24/7 glass repair, and a thirty minute visit within the time of the initial request. With the upgrades to the website, West Palm Beach customers can now simply search for West Palm Beach 24/7 glass repair, click over to the new website page for the city, educate themselves on available services, and call or click Express Glass to expedite a request. The Internet age has clearly come to the West Palm Beach glass business.
About Express Glass - West Palm Beach
Express Glass and Board Up Service Inc. is a family owned and operated glass repair business with more than 20 years of experience. Their professional technicians and the large variety of inventory make Express Glass the top glass repair service. If customers are looking for West Palm Beach glass repair, please reach out to the company for a free estimate. If customers need a 24/7 glass door repair service in West Palm Beach, technicians are standing by. The company specializes in glass door repair and window glass repair; technicians will handle any glass replacement situation efficiently. Home or business glass repair is the company's main priority.
Express Glass & Board Up
http://www.expressglassfl.com/
Tel. 561-470-6002