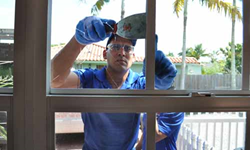 It's nice to see that customers have been going to our location-specific page for West Palm Beach glass repair customers
West Palm Beach, FL (PRWEB) March 23, 2016
Express Glass Repair and Board Up, one of the top-rated residential glass repair services for West Palm Beach residents, is proud to announce a new milestone on the company's Google+ web page. The social media service now reports over 39,000 views of the company's corporate page on Google+.
"It's nice to see that customers have been going to our location-specific page for West Palm Beach glass repair customers," commented Yaniet Santos, General Manager of Express Glass. "Spring is the time of year when homeowners want to either upgrade their windows, or maybe need help from a wayward baseball smashing the glass. We have answers and they are finding them on our Google+ page."
To review the Google+ page directly go to: https://plus.google.com/u/0/104579986647291141916/about. To view detailed information on West Palm Beach residents can visit http://www.expressglassfl.com/west-palm-beach-glass-window-repair/, and from there, they can access not only Google+ but other local social media sites such as Yelp and Angie's list.
West Palm Beach Residents: Hungry for Home Window Repair
The amount of Google searches for glass repair in West Palm Beach can rise during the spring and summer months. Homeowners may finally decide to upgrade old aluminum windows and search for the best in replacement. Baseball and golf season may create shattered glass emergencies where windows need to be repaired quickly. West Palm Beach residents can be hungry to find the best information for residential window repair and replacement to solve several issues; the new Google+ page makes it easy for homeowners or businesses to quickly educate themselves online, as well as post questions or comments for the company. Locals seek quick answers to find the best way to fix an old or shattered home window, for example. Express Glass serves up the right information for residential window glass repair and replacement.
About Express Glass Repair and Board Up
Express Glass and Board Up Service is a family owned and operated glass repair business with more than 20 years of experience. The company's professional technicians and the large variety of inventory make Express Glass the top residential and commercial glass repair service. If customers are looking for home window repair in West Palm Beach, or residential glass repair in Delray Beach or Miami glass repair, contact the company for a free estimate. If customers need a 24/7 emergency Sliding Glass Door repair service in West Palm Beach or Boca Raton or Miramar, technicians are standing by. Express Glass of Florida specializes in commercial and residential sliding glass door repair and window repair due to; hurricanes, burglary, age, accidents and other shattered glass issues. Home or business glass repair is the company's main priority.
Express Glass Repair and Board up
http://www.expressglassfl.com/