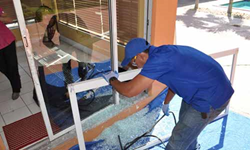 These positive customer reviews tell us we are meeting our goals for the West Palm Beach area, especially for our sliding door replacement and repair services
West Palm Beach, Fl (PRWEB) June 19, 2015
Express Glass & Board Up, West Palm Beach Florida's premier commercial and residential glass repair and replacement service, is proud to announce it has now reached eight positive customer reviews on the Google+ local service for West Palm Beach.
"These positive customer reviews tell us we are meeting our goals for the West Palm Beach area, especially for our sliding door replacement and repair services," commented Yani Santos, general manager of Express Glass. "A break-in is already scary enough for a family. With our 24/7 service, we strive to replace glass quickly and restore home security in a quick and compassionate manner. Our customers agree and are spreading the word to their friends in the new way of social media, namely local reviews."
To read the 5-star customer reviews for Express Glass and Board Up's 24-hour service in full detail, go to; https://plus.google.com/u/0/104579986647291141916/about
To read more about the company's West Palm Beach glass repair services, including the popular sliding door repair and replacement options for West Palm Beach residents, please visit http://www.expressglassfl.com/west-palm-beach-glass-window-repair/.
"The Company that Never Sleeps" offers 24/7 Glass Repair Service to West Palm Beach's Residents.
Broken windows and sliding doors from burglaries happen 24/7 in South Florida. Not only is window glass sharp to the touch, but so is a family's sense of safety. When it's 4am and the police have left, it's up to the homeowner to repair and replace broken glass replaced immediately to restore home security. This speed of repair along with excellent customer response times have propelled Express Glass to the top of West Palm Beach's glass repair companies for homes and businesses, as evidenced by the company's local reviews.
About Express Glass Repair and Board Up
Express Glass and Board Up Service Inc. is a family owned and operated glass repair business with more than 20 years of experience. Their professional technicians and the large variety of inventory make Express Glass the top glass repair service. If customers are looking for Miami glass repair or Ft. Lauderdale glass repair as well as glass repair in Delray Beach or West Palm Beach glass repair, please reach out to the company for a free estimate. If customers need a 24/7 Sliding Glass Door repair service in Ft. Lauderdale or Boca Raton or Miramar, technicians are standing by. The company specializes in sliding glass door repair and window glass repair; technicians will handle any glass replacement situation efficiently. Home or business glass repair is the company's main priority.
Express Glass Repair and Board Up
Web. http://www.expressglassfl.com/