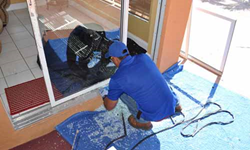 Many of our calls are from customers who never thought about sliding door repair and replacement until they needed it.
West Palm Beach, Florida (PRWEB) July 29, 2015
Express Glass and Board Up,West Palm Beach's top sliding door replacement experts at http://www.expressglassfl.com/, has announced new June and July posts to its informative blog series about sliding door repair. Florida customers have increased interest in 24/7 emergency preparedness for residential and commercial sliding door repair services as Hurricane season, 2015, approaches.
"Many of our calls are from customers who never thought about sliding door repair and replacement until they needed it," commented Yaniet Santos, general manager of Express Glass. "Time and money has usually been wasted because they were not prepared. We hate to see that happen. Our informative blog post helps customers plan for a broken sliding door emergency and what to do for a quick repair."
To review the informative blog series for West Palm Beach and other Florida communities, please visit: http://www.expressglassfl.com/blog/category/sliding-door-repair/. Details regarding emergency preparedness and pre-planning of all sliding glass door repair services are available, with new posts in June and July on the issues of emergency preparedness just in time for Hurricane season.
Planning for 24/7 Sliding Door Repair Service 365 Days a Year Saves Money and Time
West Palm Beach residents know Florida is a serene and exciting place to live. Between hurricane season and tourist season, sliding glass doors experience a lot of wear and tear. Shattered glass doors are an unpredictable emergency that can happen on weekdays, holidays and weekends at any time. Broken glass and damaged sliding doors cause vulnerability to a home or business. Express Glass offers an informative blog sharing how Florida residents can be prepared and in control during an emergency. Pre-planning a sliding door repair or replacement service is easy and cost-effective. The blog highlights simple steps to planning for an emergency and what a professional glass repair service can provide at a moment's notice.
About Express Glass Repair and Board Up
Express Glass and Board Up Service Inc. is a family owned and operated glass repair business with more than 20 years of experience. Their professional technicians and the large variety of inventory make Express Glass the top glass repair service. If customers are looking for West Palm Beach glass repair, please reach out to the company for a free estimate. If customers need a 24/7 sliding Door repair service in West Palm Beach, Florida technicians are standing by. The company specializes in sliding door repair and window glass repair; technicians will handle any glass replacement situation efficiently. Home or business glass repair is the company's main priority.
Express Glass Repair and Board up
http://www.expressglassfl.com/