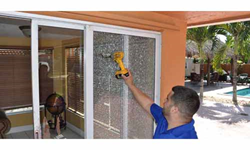 get their properties inspected prior to what is anticipated to be a severe hurricane season in South Florida. Maybe that cracked window can be found before it breaks and becomes an emergency
West Palm Beach, FL (PRWEB) May 30, 2016
May 30, 2016. West Palm Beach, Florida
Express Glass, leaders in West Palm Beach sliding door repair, has announced an important alert for the South Florida community in advance of hurricane season 2016. Older homes and buildings may be due for a full inspection. Cracked window glass or worn down rollers on sliding door frames can be a hazard if not found in time; the severe winds of a tropical storm or hurricane can dramatically alter the situation.
"It's incredible how fast ten years can slip by," commented Yaniet Santos, general manager of Express Glass. "It seems like all of a sudden, a window breaks from age or a patio door gets stuck from rust and grime. That's why we are alerting the public to remember to get their properties inspected prior to what is anticipated to be a severe hurricane season in South Florida. Maybe that cracked window can be found before it breaks and becomes an emergency."
To review the company page about property inspections go to; http://www.expressglassfl.com/blog/sliding-glass-door-repair/older-building-west-palm-beach-check-sliding-glass-door/. Details about West Palm Beach sliding door repair, emergency glass replacement and the importance of regular home inspections are available. Interested parties should note that the company provides no cost estimates.
Alert to West Palm Beach Residents: It May be Time to Inspect Properties for Sliding Door Repair
In Florida, some locals may refer to the slow pace by the ocean as "island time." This usually refers to taking life easy and getting to things whenever the mood strikes. The Florida seasons may seem to pass slowly, but there comes a time when a property starts to show wear and tear. It may be easy to ignore the signs of aging such as small cracks in windows or worn down rollers on a patio door, yet this is not the time to put it off. If a building or home is over ten years old, it may be time to conduct a full inspection before West Palm Beach sliding door repair becomes an emergency, especially with the 2016 hurricane season nearly upon ue.
Express Glass, experts in sliding door repair and replacement have issued an alert to West Palm Beach residents. Living near the ocean may be enjoyable to locals, but the sand and wind can weaken window and door glass over time. A thorough home inspection every few years may help to prevent a serious hazard like shattered glass. The company reminds West Palm Beach that Sliding door repair emergencies can be avoided if property inspections are on the calendar and done in a timely manner.
About Express Glass and Board Up
Express Glass and Board Up Service Inc. is a family owned and operated glass repair business with more than 20 years of experience. Professional technicians and the large variety of inventory make Express Glass the top glass repair service. If customers are looking for West Palm Beach sliding door repair and replacement, Miami glass repair or Ft. Lauderdale glass repair, please reach out to the company for a free estimate. If customers need a 24/7 emergency sliding glass door repair service in West Palm Beach, technicians are standing by. The company specializes in sliding glass door repair and window glass repair; technicians will handle any glass replacement situation efficiently. Home or business glass repair is the company's main priority.
Express Glass Repair and Board up
http://www.expressglassfl.com/