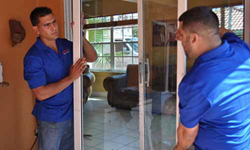 People call us all the time and ask how they can evaluate whether we are the best choice for their glass repair and replacement needs
West Palm Beach, FL (PRWEB) January 15, 2016
January 15, 2016 - West Palm Beach, FL.
Express Glass and Board Up, a top glass replacement service in West Palm Beach, is proud to announce an innovative post to its blog that covers not only its commitment to being the best glass replacement service in the city but also points to think about for customers evaluating whether to repair, or replace, a sliding glass door. The company services both businesses and homes in the city, and so the post is written to be applicable to both needs.
"People call us all the time and ask how they can evaluate whether we are the best choice for their glass repair and replacement needs," explained Yaniet Santos, General Manager of Express Glass, "One of our innovations is that we will help customers objectively choose between repairing vs. replacing a sliding glass door or window. Our new, innovative blog post went up on December 24, 2015, on this issue and we do not want consumers to miss it."
To read the blog post, please visit http://www.expressglassfl.com/blog/sliding-glass-door-replacement/when-you-need-west-palm-beach-sliding-door-replacement-you-need-to-call-the-best-company/. To view information specific to West Palm Beach, visit http://www.expressglassfl.com/west-palm-beach-glass-window-repair/.
The Repair vs. Replace Dilemma in Sliding Glass Doors
Economists often talk about a disparity in information between buyers and sellers. This abstraction can become very concrete in terms of the decision to repair or replace a sliding glass door; this is especially true in very affluent communities such as West Palm Beach, Florida. This new innovative blog post overviews the issue of repair versus replace, with an easy checklist for the busy homeowner or business manager. It starts out by explaining that, of course, Express Glass would like to be chosen as the supplier of a new door. It also goes through points of interest such as the wear and tear that can provoke a need for a replacement. What is truly innovative in the post, however, is that it focuses on one of the primary reasons Express Glass is considered the best sliding glass door repair company in West Palm Beach: the fact that its technicians will help the consumer decide which is the best option, by providing a no obligation quote for both options. Busy consumers in affluent communities are often pressed for time. By using its blog in this innovative fashion, the company makes it easier than ever for a consumer to quickly educate him or herself about the issues, and therefore be better prepared to make the best decision.
About Express Glass and Board Up
Express Glass and Board Up Service Inc. is a family owned and operated glass repair business with more than 20 years of experience. Professional technicians and the large variety of inventory make Express Glass the top glass repair service. If customers are looking for West Palm Beach storefront glass repair or glass repair in Delray Beach or Ft. Lauderdale glass repair, reach out to the company for a free estimate. 24/7 emergency storefront glass repair and replacement services are also available. If customers need a 24/7 Sliding Glass Door repair service in West Palm Beach or Boca Raton or Miramar, technicians are standing by. The company specializes in sliding glass door repair and window glass repair; technicians will handle any glass replacement situation efficiently. Home or business glass repair is the company's main priority.
Express Glass Repair and Board up
http://www.expressglassfl.com/