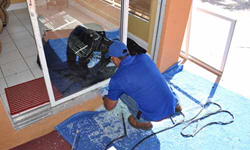 It looks like our posts on sliding glass door repair issues are right in line with what our Florida community wants to know about
West Palm Beach, FL (PRWEB) July 25, 2016
July 25, 2016. West Palm Beach, Florida
Express Glass, a company long considered one of the sliding glass door repair experts for West Palm Beach and the surrounding areas, is proud to announce a new series of three blog posts on major home repair action items identified by the local community. Three top blog posts received the most views on the company website.
"It looks like our posts on sliding glass door repair issues are right in line with what our Florida community wants to know about," commented Yaniet Santos, general manager of Express Glass. "That's important to us. Three of our blog posts have received the most views, and we believe that means we are covering the right topics to help homeowners prioritize projects. Our goal is to offer helpful advice so Floridians can have their glass repair needs done properly the first time and within budget."
To review the three blog posts on the Express Glass website go to http://www.expressglassfl.com/blog/tag/sliding-glass-door-repair/. Information about emergency 24/7 glass repair service as well as sliding glass door repair issues in general is available. Helpful advice regarding glass installation projects for windows and sliding doors in West Palm Beach and the surrounding area is also available by clicking 'up' to the general blog.
West Palm Beach Connects the Dots to Sliding Glass Door Repair Projects
Home repair projects rise in popularity during the warm summer months and a list of action items to complete the work right is the first step. Many West Palm Beach households begin a task by researching the best way to execute a job and stay within budget. Popular home improvement projects such as sliding glass door repair require smart planning and thought. Homeowners may be confused as to what home repair projects can be accomplished the DIY way, or if it requires expert skills of a trained professional.
Express Glass has announced three top glass repair posts West Palm Beach residents have viewed during the month of June:
1. DIY vs. Professional Glass Repair
2. Aging Building Alert
3. Memorial Day Specials
All three posts discuss the importance of executing a proper sliding glass door repair and installation. An aging apartment building with porches may need to upgrade to new patio widows for tenant safety. A homeowner may decide to install energy efficient windows to lower HVAC bills. All cases can require the expert support of a professional to complete the work properly.
West Palm Beach residents have connected the dots to three blog posts and reviewed the best advice for a sliding glass door repair project. A successful home improvement task requires a good To Do list, a plan of action and expert support.
About Express Glass and Board Up
Express Glass and Board Up Service Inc. is a family owned and operated glass repair business with more than 20 years of experience. Professional technicians and the large variety of inventory make Express Glass the top glass repair service. If customers are looking for West Palm Beach sliding glass door repair and replacement, Miami glass repair or Ft. Lauderdale glass repair, please reach out to the company for a free estimate. If customers need a 24/7 emergency sliding glass door repair service in West Palm Beach, technicians are standing by. The company specializes in sliding glass door repair and window glass repair; technicians will handle any glass replacement situation efficiently. Home or business glass repair is the company's main priority.
Express Glass Repair and Board up