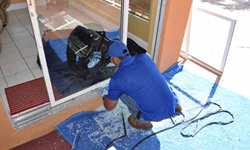 We can't say enough about double-pane windows! They can make a big improvement in daily living and daily costs, commented Yani Santos, general manager of Express Glass
West Palm Beach, Florida (PRWEB) February 08, 2017
Express Glass Repair and Board Up, a leading sliding glass door repair service in West Palm Beach, is proud to announce a new blog post on a very timely, energy-efficient topic for 2017. Double-pane windows at a residence or business can provide several benefits. Patio doors upgraded to double-pane windows can help keep utility bills down and offer extra security during hurricane season.
"We can't say enough about double-pane windows! They can make a big improvement in daily living and daily costs, commented Yani Santos, general manager of Express Glass. "Our new post explains the various benefits to upgrading a sliding glass door to double-pane windows. Things like keeping utility bills down can be a huge bonus to homeowners and businesses."
To review the new blog post for the multi-tasking features of double-pane windows please visit http://www.expressglassfl.com/insulated-glass/
Information about upgrading patios doors and about sliding glass door repair in West Palm Beach can also be reviewed. Those interested in West Palm Beach glass repair service offerings can visit http://www.expressglassfl.com/west-palm-beach-glass-window-repair/.
West Palm Beach Sliding Glass Door Repair and the Many Talents of Double-Paned Windows
Miami locals may not think about sliding glass door repair on the average day. When a problem occurs, such as a cracked patio door, or a high air conditioning bill, finding stronger, dual-paned glass may be the best solution. Double-paned windows and doors can offer long-term savings to budget-conscious Floridians. Dual-pane glass brings three key features: energy efficiency, protection from UV rays and breakage resistance. A home or business owner searching for answers to high air conditioning bills in the sweltering summer months may find relief from double-pane windows. If a laminate is added during sliding glass door repair, the glass can be more resistant to breakage as well.
Express Glass, considered one of the top West Palm Beach sliding glass door repair services, has recently released a new blog post about the many talents of dual-pane windows. Single-pane patio doors and large windows can create costly problems at the wrong time. An old, thin-glassed window can easily shatter and leave the home vulnerable. Bad weather with wind and water may damage carpet and hardwood floors. Broken glass in a patio door could also signal an invitation to vandals. If a West Palm Beach local is looking to schedule sliding glass door repair, dual-pane windows can be a smart choice. Dual-pane windows offer money-saving benefits, home security and beautiful natural light.
About Express Glass Repair and Board Up
Express Glass and Board Up Service Inc. is a family owned and operated glass repair business with more than 20 years of experience. Their professional technicians and the large variety of inventory make Express Glass the top glass repair service. If customers are looking for West Palm Beach sliding glass door repair or Ft. Lauderdale glass repair as well as glass repair in Delray Beach, please reach out to the company for a free estimate. If customers need a 24/7 emergency glass repair service in West Palm Beach or Ft. Lauderdale, technicians are standing by. The company specializes in sliding glass door repair and window glass repair; technicians will handle any glass replacement situation efficiently. Home or business glass repair is the company's main priority.
Express Glass Repair and Board up
http://www.expressglassfl.com/