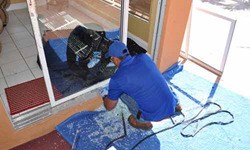 Twitter isn't necessarily the first place people look for glass repair services
West Palm Beach, Florida (PRWEB) June 28, 2017
Express Glass and Board Up, considered one of the top sliding glass door repair services in West Palm Beach, is proud to announce new upgrades to the company's use of Twitter, the popular social media network. The company is known as one of the most forward-looking in South Florida with an assertive use of new technologies such as Twitter, Facebook, and LinkedIn.
"Twitter isn't necessarily the first place people look for glass repair services," explained Yani Santos, general manager of Express Glass. "However, we have had good success at beefing up our online efforts, and Twitter is an important part of our outreach for busy West Palm Beach residents who may not realize that we have coupons, incentives, and discounts for glass repair services."
To view the company's newly upgraded Twitter account, visit https://twitter.com/expressglassfl. Those who want to learn more about glass repair services, including sliding glass door repairs, specific to the West Palm Beach area, can visit http://www.expressglassfl.com/west-palm-beach-glass-window-repair/. Journalists, bloggers, and other local media representatives who are looking to learn more about how local small businesses in West Palm Beach are using social media, can visit the website to reach out to a company representative.
Tweeting to the Top of Glass Repair Services in West Palm Beach
When a local West Palm Beach resident needs glass repair, the first place he or she is likely to go is word-of-mouth. Asking friends or neighbors for recommendations remains the most popular way of finding a quality, local glass repair company. That said, today's modern consumers, also go to the Internet, starting with searches on Google, Yelp, or the Yellow Pages, and ending up on social media sites such as Twitter or Facebook. By upgrading its Twitter account with new photos, new tweets, and new contact information, Express Glass is reasserting its leadership as one of the most forward-looking glass repair companies in Palm Beach County and throughout the prosperous South Florida region. Indeed, interested persons can visit the company on Twitter and tweet to the company. In that way, a quick visit on the mobile phone to the company's Twitter account can be an easy way to reach out for a consultation on glass repair or glass replacement needs.
About Express Glass and Board Up
Express Glass and Board Up Service Inc. is a family owned and operated glass repair business with more than 20 years of experience at http://www.expressglassfl.com/. Their professional technicians and the large variety of inventory make Express Glass the top glass repair service. If customers are looking for West Palm Beach sliding glass door repair or Ft. Lauderdale glass repair as well as glass repair in Delray, please reach out to the company for a free estimate. If customers need a 24/7 Sliding Glass Door repair service in West Palm Beach, Ft. Lauderdale or Boca Raton, technicians are standing by. The company specializes in sliding glass door repair and window glass repair; technicians will handle any glass replacement situation efficiently. Home or business glass repair is the company's main priority.