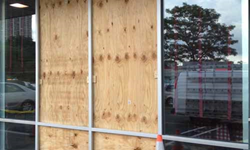 Broken windows in stores and restaurants can happen any time of the year, but we see an increase during the holidays
West Palm Beach, FL (PRWEB) December 17, 2015
Express Glass and Board Up, a top glass replacement service in West Palm Beach, is proud to announce its holiday service hours for West Palm Beach, and specifically the storefront and commercial glass repair service. While some non-local glass companies are cutting back on support for West Palm Beach, Express Glass is announcing continued commitment to businesses in the city, including storefront glass repair during the week between Christmas and New Year's.
"Broken windows in stores and restaurants can happen any time of the year, but we see an increase during the holidays, especially as we approach December 31st or New Year's Eve," explained Yaniet Santos, General Manager of Express Glass, "In addition, some companies are dropping storefront glass repair in West Palm Beach. We, however, are reaffirming our commitment to this important community and commercial glass service in the city."
Hours for commercial glass repair will be 24 hours per day, except on December 25, 2015 (Christmas). On New Year's Eve the company will be working 24 hours as well as on January 1, 2016, as these are (unfortunately) days in which vandalism and accidents occur during the New Year's revelry.
Commercial businesses in West Palm Beach and all of South Florida are encouraged to pre-contact the company via the website, as for larger businesses the company can come out and pre-measure glass windows and doors so that, in an emergency, they are ready to be repaired rapidly.
To learn more about Express Glass and Board Up's storefront glass repair services for the holiday season, please visit http://www.expressglassfl.com/storefront-glass-repair/. To view information specific to West Palm Beach, visit http://www.expressglassfl.com/west-palm-beach-glass-window-repair/.
West Palm Beach: 2015 Holiday Celebrations take over the Town as well as Storefront Glass Repair
During the winter season, West Palm Beach is busy with Christmas shoppers and New Year's Eve parties. Local cafes and shops increase staff to meet the demands of more customers. The influx of holiday customers may also bring an increase in accidents such as broken storefront glass. At that moment, the shop owners and managers become the customer and require urgent storefront glass repair from a top service.
Express Glass and Board Up has proudly announced a renewed commitment to holiday hours for 2015/2016 to commercial glass repair in West Palm Beach in the 2015 holiday season and into 2016. West Palm Beach business owners and managers can call for 24/7 emergency storefront glass repair when it is needed. If customers celebrate too much and bust glass by accident, or if a burglar tries to break through a window to steal holiday treats, storefront glass repair and replacement is available any time of day.
About Express Glass and Board Up
Express Glass and Board Up Service Inc. is a family owned and operated glass repair business with more than 20 years of experience. Professional technicians and the large variety of inventory make Express Glass the top glass repair service. If customers are looking for West Palm Beach storefront glass repair or glass repair in Delray Beach or Ft. Lauderdale glass repair, reach out to the company for a free estimate. 24/7 emergency storefront glass repair and replacement services are also available. If customers need a 24/7 Sliding Glass Door repair service in West Palm Beach or Boca Raton or Miramar, technicians are standing by. The company specializes in sliding glass door repair and window glass repair; technicians will handle any glass replacement situation efficiently. Home or business glass repair is the company's main priority.
Express Glass Repair and Board up
http://www.expressglassfl.com/