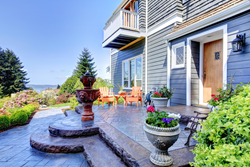 We provide the same great products to contractors as we do to homeowners.
(PRWEB) October 05, 2015
Foundation Armor professional grade concrete and masonry sealers have been used by industrial and commercial firms for years as their preferred sealer manufacturer. From bridge decks to parking lots, outdoor shopping malls to restaurant floors, contractors have been trusting Foundation Armor to provide them with long lasting, durable products for their interior and exterior concrete and masonry needs. The same great products used by contractors are now available direct-to-consumer through their website, FoundationArmor.com.
Foundation Armor manufactures several wet look sealers, the most popular being the Armor AR350. The Armor AR350 is a pure acrylic lacquer designed to enhance and protect a variety of interior and exterior concrete and masonry surfaces including poured concrete, stamped concrete, broom finished concrete, exposed aggregate, stone, and pavers. The high quality resins used in the Armor AR350 are resistant to UV rays and will never peel or flake. When properly applied, the Armor AR350 can provide up to 3-5 years of life before the need for a recoat. For high gloss concrete sealer Foundation Armor also offers the Armor AR500, or the patent-pending Siloxane infused Armor AX25.
What sets the Armor AR350 apart from other wet look sealers is the high quality resins and professional grade formula. "Many of our competitors will offer a variance in the formulas they offer to contractors and to homeowners. Homeowner solutions tend to be a lower solids solution that required more product and upkeep," says Foundation Armor founder Tanya Schifone. "At Foundation Armor, we have a different goal in mind. We provide the same great products to contractors as we do to homeowners, and once developed our formulas don't change. We want all of our customers to have access to the same great products which is why we launched FoundationArmor.com."
For more information on the Armor AR350 wet look sealer, or any other products offered by Foundation Armor, simply visit FoundationArmor.com. Foundation Armor sealers and coatings are available direct from Foundation Armor as well as on HomeDepot.com and Amazon.com.