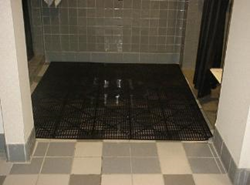 "Wet walking surfaces like those in shower and pool areas can present dangerous slip and fall situation. Interlocking Tiles and Wet Area Matting are quick solutions to making slick floors more safe"
Gainesville, GA (PRWEB) May 22, 2014
Warmer weather has arrived—and with it the expected influx of people around pools and outdoor shower areas at the beach. To ensure safety during the summer water recreation season, The Mad Matter offers a full line of shower tiles and wet area matting designed to combat slip and fall issues.
Wet area matting and outdoor deck tiles prevent slips, falls and injuries in shower areas, locker rooms and around pools. The Mad Matter has an extensive line of shower tiles and wet area matting that can be installed in any area where water may pose a challenge.
Slip and falls are always a concern when water and hard floor surfaces meet, according to Gary D. Storz, President of The Mad Matter, Inc. When choosing a floor mat, Storz recommends considering coefficient of friction, ease of maintenance, functionality and of course, appearance."
"Wet, hazardous grounds near pools and shower areas can pose a serious liability for businesses and public facilities," Storz said. "Our wet area floor solutions help prevent accidents and keep children, the elderly and all patrons safe when entering and exiting wet areas. We can assist in selecting a solution to fit your needs."
The Mad Matter carries commercial and residential floor matting solutions for every application including gyms, recreation centers, school athletic departments, hotels, spas and more. For more information on The Mad Matter, visit http://www.madmatter.com or call 800-685-1144 or help(at)madmatter(dot)biz.