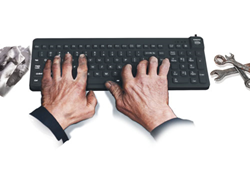 "We've noticed a significant increase in sales to the oil & gas energy industry as domestic production ramps up with new technologies in response to ongoing conflicts in the Middle East." – Paul Lawrence, CEO of WetKeys Washable Keyboards
Atlanta, GA (PRWEB) September 23, 2014
WetKeys Washable Keyboards announces the launch of a new oil resistant keyboard in their industrial keyboards line. Labeled the 'Really O'Cool' by Man & Machine, it's designed to last longer in heavy-duty industrial computing for the oil and gas industry, automobile factories, or food manufacturing where grease and oil can destroy usability or cause data errors. Petrochemicals, oils, and solvents are a constant threat to the longevity of computer equipment and can dissolve many plastics. This new keyboard model uses a different cover material that is more resistant to strong chemicals than ordinary waterproof rubber keyboards.
Industrial computer workstations are used throughout energy production facilities, automobile manufacturing plants, oil and tire changing centers, and service stations. In these environments, regular ABS (Acrylonitrile Butadiene Styrene) plastic keyboards, like the familiar rigid plastic keyboards, that have moving parts can get stuck or even melted causing premature failure.
The Really O'Cool has no moving parts and is made of oil resistant rubber. This makes the new keyboard the perfect solution for dusty, dirty, greasy, oily environments including oil & gas exploration and production facilities, food manufacturing, laboratories, mining operations, petroleum platforms, CNC milling machines in machine shops, automotive centers, maintenance facilities, workshops, and paint stores where solvents are used to clean equipment.
"We've noticed a significant increase in sales to the oil & gas energy industry as domestic production ramps up with new technologies in response to ongoing conflicts in the Middle East. Demand from the American automotive industry is also expanding with new plants and computerized production capabilities as the economy recovers and auto sales rebound throughout North America," stated Paul Lawrence, CEO of WetKeys Washable Keyboards.
"In the trillion-dollar oil and gas industry, maximizing the lifespan of data entry devices is essential to avoid unplanned downtime, decreasing data entry errors, and mitigating employee non-compliance with recordkeeping. Specialized equipment is needed where harsh operational and environmental conditions are the norm. As our customers move closer to being 100% paperless, the importance of data entry devices is greater," continues David Malo, COO of WetKeys Washable Keyboards.
Our industrial food manufacturing customers are also in need of specialized equipment. A recent article from Food Processing states, 'a major focus for food processing plants is being able to elevate allergen control to be on par with pathogens, radiological hazards and parasites. The Food Safety Modernization Act requires all plants to have an allergen control program; however, despite these regulations 200,000 Americans were hospitalized last year due to adverse reactions to food.' Even with regulations in place, these negative outcomes highlight the challenge of preventing cross-contamination in food processing plants.
"Preventing cross contamination in food processing plants doesn't stop at protecting your employees with protective gear, but needs to continue by protecting your equipment and cleaning it in between uses," illustrated Malo.
Ideal for the food, industrial, and manufacturing industry, 'Really O'Cool' is a heavy-duty keyboard featuring TruLock technology which allows users to lock the keyboard for easy cleaning without unplugging it from a computer. The fully sealed keyboard is engineered to be waterproof, dustproof, and oil resistant. The optional individually illuminated keys enable accurate typing in low-light conditions. With the addition of our magnetic mounting system, the keyboard will hold on to any ferrous surface.
WetKeys offers a wide variety of keyboards made in the U.S.A. including, 'Really O'Cool' as well as other Man & Machine products. The online retailer for high quality waterproof and water resistant keyboards also carries and produces a wide variety of rubber keyboards and nearly indestructible keyboards, ideal for manufacturers and other companies that utilize heavy machinery.
For more information about WetKeys visit: http://www.WetKeys.com
About WetKeys:
WetKeys® Washable Keyboards is a leading manufacturer and online retailer of industrial grade, waterproof and washable computer keyboards and mice. Affordable, heavy-duty keyboards, mice and touchpads are reliable, longer lasting than ordinary computer input devices and save money. Silicone rubber keyboards are rated IP68 / NEMA4x and can be pressure washed to sanitize in food processing plants complying with FDA rules reducing food-borne illness. With over 400 keyboard and mouse choices, the sales team at WetKeys are your Washable Keyboards Experts. Single-source, lower cost, factory-direct pricing helps lower the cost of industrial computing.
WetKeys is Vendormate verified and a member of the Advanced Technology Development Center of Georgia Tech with products featured on CNBC, NBC's Today Show and Fox News.
About Man & Machine:
Man & Machine, Inc. is an international provider of leading edge, infection control computer accessories focusing on medical, governmental, industrial, educational and general office environments.
Products include waterproof keyboards and mice, mobile keyboards for the RIM Blackberry, LCD privacy monitors, and customized products to meet clients' unique applications.
The company was founded in 1982 outside of Washington, D.C. with satellite offices in Oregon, Tennessee, Philadelphia, Indiana, The Netherlands, and China.