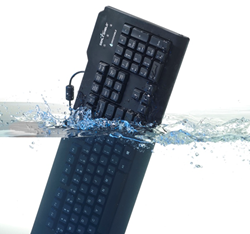 "Nosocomial infections are typically transmitted via cross contamination from touch surfaces, such as computer keyboards and peripherals, and these components require special attention for disinfection and cleaning."
Atlanta, GA (PRWEB) September 30, 2015
ATLANTA - WetKeys Washable Keyboards (http://www.wetkeys.com), the company that offers easy-to-sanitize, sealed computer keyboards and mice, today announced availability of the Seal Shield Silver Seal Glow™ backlit waterproof keyboard specifically designed for the healthcare market (model SSKSV207G). The Silver Seal keyboard is the first backlit, rigid plastic, waterproof keyboard constructed with antimicrobial protection to limit transmission of germs, bacteria and mold through the computer keyboard.
The Silver Seal Glow keyboard uses waterproof LED lighting adjustable in 3 levels to backlight keys, making it ideal for low-light environments such as operating suites, laboratories and hospital wards. The keyboard is completely submersible, and can be cleaned using healthcare grade disinfectants, or even in an automatic dishwasher. In addition, the Silver Seal Glow keyboard is made with an antimicrobial, fungistatic additive molded into the ABS plastic that reduces growth of mold and mildew as well as bacteria that can lead to the spread of illness.
Frequent hand washing is a common means of reducing hospital infection, but medical professionals often transmit contagions from dirty computer keyboards to other tools and even to patients. For example, a University of North Carolina Research study revealed that up to 25 percent of hospital keyboards are contaminated with the Super Bug MRSA, a strain of staph bacteria resistant to antibiotics. Daily disinfecting of computer keyboards can reduce risk of cross contamination. Where most keyboards are not designed for frequent cleaning with disinfectants, WetKeys waterproof keyboards are completely washable, and the new Silver Seal™ keyboard is not only washable but also made from materials that inhibit bacterial growth.
"Nosocomial infections are typically transmitted via cross contamination from touch surfaces, such as computer keyboards and peripherals, and these components require special attention for disinfection and cleaning," said Paul Lawrence, CEO of WetKeys. "Most computer keyboards won't stand up to the kind of cleaning required to stop the spread of bacteria. That's why healthcare providers come to WetKeys for washable keyboards. With the addition of the Silver Seal Glow, we can now provide a hard plastic traditional-feel keyboard that's also backlit for use in low-light settings and offers excellent infection control."
The Silver Seal Glow is just the latest in a complete line of waterproof, washable keyboards, mice and touchpads designed specifically for tough computing environments such as operating rooms, nurse stations, dental offices and labs as well as food service or industrial computing. WetKeys also offers a complete line of waterproof peripherals, such as wireless computer mice, trackballs, handheld device covers, and keyboard drape material.
For more information about the Silver Seal Glow waterproof backlit keyboard as well as other WetKeys products, visit the company on the web at http://www.wetkeys.com.
About WetKeys:
WetKeys® Washable Keyboards (WetKeys.com) is a leading manufacturer and online retailer of infection control waterproof and washable computer keyboards and waterproof and washable computer mice. Affordable, germ resistant medical keyboards help prevent cross-contamination in hospitals and improve patient outcomes by reducing HAIs (healthcare acquired infections) when used throughout healthcare facilities. Silicone medical keyboards are easy-to-sanitize in healthcare environments to comply with infection prevention protocols. With over 300 keyboard and mouse choices, the sales team at WetKeys are your Washable Keyboards Experts. Single-source, lower cost, factory-direct pricing helps lower the cost of healthcare and makes the most of your infection prevention budget.
About Seal Shield:
Seal Shield LLC designs, develops and manufactures medical grade, infection control technology for hospitals and the home. In 2007, Seal Shield LLC invented the world's first antimicrobial, waterproof keyboard and mouse. Since then, the infection control company has established a unique in-house antimicrobial test lab and has become the world's leading innovator of infection prevention and antimicrobial technology. Products include air purifiers, waterproof/antimicrobial keyboards, mice, TV remotes, smart phone and tablet protection products as well as OEM solutions, custom engineering and antimicrobial consulting services.