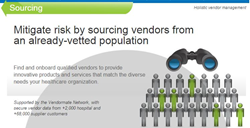 "Sourcing Manager enables hospitals to save time and money in their sourcing process by quickly finding and comparing products and services from a network of 68,000 credentialed vendors" - David Malo, Chief Operating Officer for WetKeys
Atlanta, GA (PRWEB) January 28, 2015
WetKeys, the leading provider of waterproof and washable computer keyboards and mice, announces its entrance into a new online sourcing solution, Vendormate's Sourcing Manager. The company will use the tool to make its medical-grade keyboards and mice available to medical professionals.
The Sourcing Manager tool provides solutions for suppliers and providers in the healthcare supply chain. To comply with regulations governing their business operations, healthcare providers need to be able to locate vendors that are qualified and credentialed.
"Sourcing Manager enables hospital purchasing teams, value analysts and department leaders to save time and money in their sourcing process by quickly finding and comparing products and services from a network of 68,000 credentialed vendors," said David Malo, Chief Operating Officer for WetKeys.
Of interest to vendors, the latest release of the Vendormate Sourcing Manager makes it easy to upload and manage a mass amount of product information to WetKeys' Sourcing Manager storefront including thousands of product pages, details, and images.
This tool simplifies the management of company contacts available through the supplier's storefront, assisting in the lead management and sales process. As David Malo states, "On the other side, the tool enables credentialed vendors to provide product and service details to hospital teams involved in key stages of the purchasing process. This results in streamlined sales processes for companies selling into over 2,000 hospitals in the Vendormate network." For providers, this makes it easier to get to the right company contact faster.
The Vendormate Sourcing Manager also helps to improve compliance through identifying the right company in a network of credentialed, sanctions-free vendors saving time in the RFI and RFP processes.
Listing products using Vendormate's Sourcing Manager, WetKeys has increased visibility of its washable keyboards and other medical-industrial data entry devices in a "credentialed" network.
WetKeys and Vendormate are Atlanta-based companies that are alumni of the Advanced Technology Development Center (ATDC) of Georgia Institute of Technology.
For more information about WetKeys, please visit: http://www.wetkeys.com/
For more information about Vendormate, please visit: https://www.vendormate.com/
About WetKeys
WetKeys® Washable Keyboards (WetKeys.com) is a leading manufacturer and online retailer of infection control waterproof and washable computer keyboards and waterproof and washable computer mice. Affordable, germ resistant medical keyboards help prevent cross-contamination in hospitals and improve patient outcomes by reducing HAIs (healthcare acquired infections) when used throughout healthcare facilities. Silicone medical keyboards are easy-to-sanitize in healthcare environments to comply with infection prevention protocols. With over 300 keyboard and mouse choices, the sales team at WetKeys are your Washable Keyboards Experts. Single-source, lower cost, factory-direct pricing helps lower the cost of healthcare and makes the most of your infection prevention budget.
WetKeys is Vendormate™ verified and a member of the Advanced Technology Development Center of Georgia Tech with products featured on CNBC, NBC's Today Show and Fox News.
About Vendormate
Vendormate, a GHX company, helps healthcare providers and suppliers form and optimize their business relationships with simplified and streamlined processes. Vendormate was acquired by GHX in November 2014 adding its relationship with more than 2,000 healthcare facilities and 68,000 vendors to the more than 4,000 hospitals and 18,000 provider facilities in the GHX community. For more information, visit http://www.ghx.com and http://www.vendormate.com.