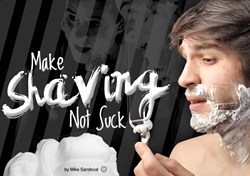 By changing the way you shave, you can look better and actually enjoy the way you start your mornings.
Easton, PA (PRWEB) July 26, 2013
The all-new Cigar Advisor is an online cigar magazine that brings a fresh, irreverent, and down-to-earth perspective on all things cigars to thousands of smokers. In addition to educational cigar content and behind-the-scenes cigar industry articles from some of the business's top names, Cigar Advisor delivers an array of content about a variety of topics of interest to people who enjoy the cigar lifestyle. The magazine also features cigar reviews and ratings submitted by real smokers. Cigar Advisor has just published a new article on the benefits and methods behind wetshaving.
CigarAdvisor Contributor Mike Sandoval, founder of Shaving101.com, asks a simple question: "If you end your day with a good cigar, why do you start your day with something that sucks?" In a piece titled "Make Shaving Not Suck," he argues that it's time to stop shaving like one might in high school. By changing the way one shaves, he says, a man can look better and actually enjoy the way he starts his mornings.
Sandoval goes on to outline the basics of wetshaving, discussing the pitfalls of the modern cartridge razor. He then offers a basic guide on the different types of razors that are available, including the straight razor and safety razor, as well as wetshaving accessories like brushes. Mike further explains why wetshaving is so much better than the unsatisfying shave that has come to be accepted in modern times, including benefits for the skin, a closer shave, and a morning ritual that will make you feel like a man.
About Cigar Advisor Magazine
Cigar Advisor magazine is a digital publication created for real cigar enthusiasts who love tobacco and live the lifestyle. Cigar smokers are passionate about almost everything they do - whether it's the drinks they savor, the food they devour, the cars and motorcycles they dream of, the sports they're fanatical about or the women they love, Cigar Advisor shares those passions with a razor-sharp edge, soaking up each day and experience as if it were our last. Find that passion and more on display at CigarAdvisor.com.