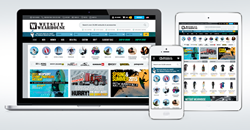 Wetsuit Wearhouse's outstanding online store presents elaborate and precise product organization, excellent integration of advice, blogs, reviews, and support, highly interactive product-finders, and a young, fresh, visual interface
Williamsport, MD (PRWEB) March 02, 2016
Wetsuit Wearhouse, the largest wetsuit specialty shop in the world, has been nominated for a Blades Ecommerce Award for Best Enterprise Website for WetsuitWearhouse.com.
According to the nomination on the MivaCon website, "A Blades Award-worthy enterprise site integrates a dazzlingly creative user experience with highly sophisticated back-end functionality. These outstanding finalists serve big business with even bigger style." The site also notes the reason for the nomination, "Wetsuit Wearhouse's outstanding online store presents elaborate and precise product organization, excellent integration of advice, blogs, reviews, and support, highly interactive product-finders, and a young, fresh, visual interface appropriate to its sporty customer. This completely responsive website is based on Bootstrap Base Framework from Miva and highlights the importance of prioritizing mobile for modern consumers."
Headquartered in Williamsport, Maryland, Wetsuit Wearhouse Inc. is a retailer specializing in wetsuits and accessories. "We're thrilled to be nominated for a Blade Ecommerce Award," said Chris Moleskie, Founder, President & CEO of Wetsuit Wearhouse. "Creating the site was a collaborative process between our team, the professional designers at High Rock, web developer Joe McDonald, and the ecommerce experts at Miva. We're very proud of the site and all it offers our customers."
Dave Schleigh, Founder & Creative Director for High Rock said, "Wetsuit Wearhouse has been a fun client to work with. Everything on the website - from the images and colors to the user-friendly interface - represent the company culture. Working with Chris and the team at Wetsuit Wearhouse during the process ensured the design and the ecommerce component would fit seamlessly."
Winners of the Blades Awards will be announced on March 10, 2016 at the Hyatt Regency La Jolla in San Diego, California. To learn more about the Blades Awards, visit http://www.MivaCon16.com.
About Wetsuit Wearhouse
Established in 2002 to provide a one-stop shop for all types of wetsuits, Wetsuit Wearhouse offers a selection of specialized suits for all sports including surfing, wakeboarding, waterskiing, kayaking, SCUBA Diving, triathlons, pool rehabilitation and more. Visit http://www.WetsuitWearhouse.com to learn more.
About High Rock
High Rock is a full-service marketing firm serving clients in the Baltimore/Washington D.C. region and nationwide. Since 2005, High Rock has built a reputation for innovation, expertise, and results for clients. Their services include a mix of strategy, creative, web, video, 3D, and digital. Visit http://www.HighRockStudios.com to learn more.
About MIVA
MIVA offers PCI compliant ecommerce, hosting, and custom website design and solutions With responsive mobile design, a number of features, and automated back-end workflows, their ecommerce solutions work for small businesses and enterprises. Since 1997, Miva customers have processed over $100 billion in online sales. Visit http://www.Miva.com to learn more.