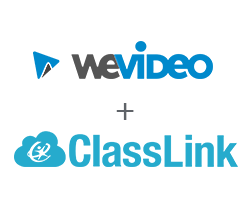 "Students are their most creative selves when they don't have to expend cognitive energy on things that don't contribute to the actual learning experience. We want to give students ease of access so they can focus on creating, thinking and having fun while learning."
MOUNTAIN VIEW, Calif. (PRWEB) October 03, 2019
WeVideo, the leading provider of video and podcast creation solutions for education, today announced a partnership with ClassLink to include WeVideo in ClassLink's single sign-on (SSO) and rostering solution. The partnership eliminates the challenge schools and teachers face each day of managing and monitoring the logins and online resource and application use that is integral to the modern school environment.
The partnership establishes OneClick access to WeVideo from ClassLink's LaunchPad, allowing schools and teachers to easily discover and access the WeVideo platform. Not only does this SSO integration save time, but WeVideo users can now access the creative app through the same platform where students and teachers gain instant access to the school's chosen online apps from any computer, anywhere.
The rostering integration further simplifies access by effortlessly managing WeVideo users, taking the onus off teachers to manually add and remove student users. With streamlined management and access to WeVideo, teachers can spend more time in the classroom focusing on student-produced documentaries, newscasts, podcasts, green screen projects, book trailer videos and more. The WeVideo for Schools cloud-based app is available immediately on ClassLink LaunchPad and is free for current WeVideo for Schools subscribers.
WeVideo's Chief Education Officer and author, Dr. Nathan Lang-Raad, believes ClassLink and WeVideo are natural partners, as both seek to simplify access to creative solutions for teachers and students using collaborative, cloud-based platforms.
"Students are their most creative selves when they don't have to expend cognitive energy on things that don't contribute to the actual learning experience. We want to give students ease of access so they can focus on creating, thinking and having fun while learning," said Lang-Raad.
ClassLink recently won three Tech & Learning Best of Show awards at this year's ISTE show, including an award for ClassLink LaunchPad.
"We're pleased to strengthen our integration with WeVideo and empower their users with OneClick access to their creative tool. Students and educators benefit from the opportunity to leverage technologies like WeVideo faster, easier and with greater security. This relationship signals our shared commitment to making that happen," said Patrick Devanney, Vice President of Interoperability Services at ClassLink.
About ClassLink
ClassLink is a leading provider of cloud-based education products that connect teachers and students with their classroom, their curriculum and each other in richer, more powerful ways. As leading advocates for open data standards, we offer OneClick access to apps and files, provide actionable analytics, streamline class rostering, and automate account provisioning. Founded in 1998, ClassLink's mission is to empower educators to improve learning through innovative systems and services. To learn more, visit https://www.classlink.com.
About WeVideo
WeVideo is a powerful, easy to use, cloud-based, collaborative video creation platform. With 30 million accounts created to date, WeVideo is the first choice of educators, businesses, consumers, and students, as well as being the video backbone for many third-party media solutions. WeVideo can be accessed from any computer or device: at school, home, work or on the go. Users can easily capture, edit, view and share videos with secure storage of their content in the cloud. WeVideo is a Google for Education partner and is the exclusive digital storytelling solution for Google's Education Creative Bundle for Chromebooks. WeVideo is also a Microsoft Education Partner. For more information about WeVideo for Schools, please visit http://www.wevideo.com/education, follow us on Twitter at @wevideo or visit us on Facebook at https://www.facebook.com/wevideo/